OUCH! From Meghan Trainor To Justin Bieber – Check Out All The Stage Falls We're Wincing At
13 May 2016, 10:35 | Updated: 4 December 2017, 11:10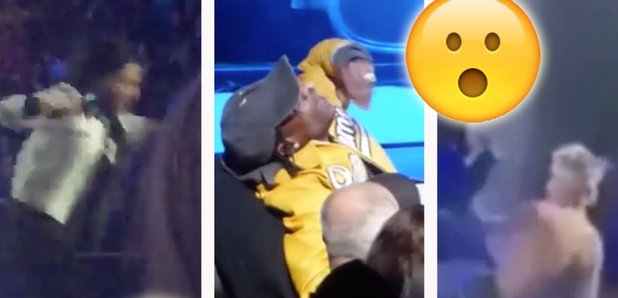 We've gotta say, these stars are ABSOLUTE pros for carrying on as if nothing happened!
It's inevitable and happens to EVERY pop star at one point or another... the dreaded stage fall! But with hundreds of hours of performing experience under their belts, these celebs manage to take it in their stride as much as possible... however painful that fall may have looked!
Meghan Trainor went over on BOTH of her ankles in what was possibly the FUNNIEST stage fall EVER.
Meghan was performing on the Jimmy Fallon show when she managed to lose her footing on her sky-high heels. We shouldn't laugh, but it's kind of impossible not to...
MEGHAN TRAINOR JUST LOST BOTH HER ANKLES ON FALLON RIP pic.twitter.com/Krvc4vhX8H

— Shanbug (@ShannaJaeSee) May 13, 2016
Justin Bieber took a tumble after slipping on a wet stage - but blink and you'd have missed it!
JB styled out his slip as he stacked it in a giant puddle of artificial rain on stage... but he got back up and continued dancing SO quickly that we're pretty sure most of the audience didn't even see the mishap. Now that's a TRUE professional!
Demi Lovato stacked it on stage while going to introduce someone at the WE Day event in LA
The slippery stage had nearly caught Seth Rogen out earlier in the evening, but Demi took quite a spill... but she got right back up and told the crowd, "I'm OK!".
Demi Lovato falling on stage at #WeDay California #2 pic.twitter.com/6aYBmD88MB

— Demi Lovato News (@itsohsodemi) April 7, 2016
Travis Scott took a VERY nasty tumble... but carried on despite being in pain!
When Travis fell off stage during his performance of 'Antidote', the pain was evident in his face... but despite needing to be carried by his bodyguard, Travis still continued on singing. Someone get this guy a medal because this is REALLY something!
Yikes - be careful out there guys, performing is a DANGEROUS game!