Scarlett Moffatt's Emotional Facebook Message Reveals She Was Dumped By Her Boyfriend On Her Birthday
19 October 2017, 11:03 | Updated: 4 December 2017, 11:10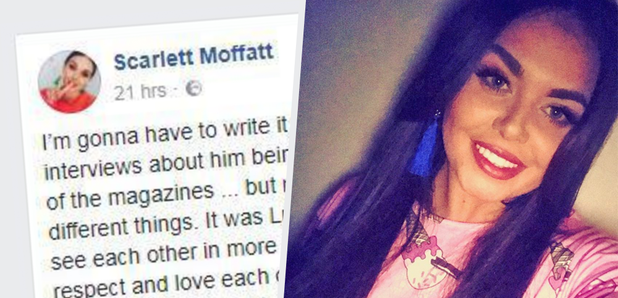 "I'm gonna have to write it because I feel a bit awkward..."
After rekindling her romance with Luke Crodden recently following their split back in the early part of the year, Scarlett Moffatt has now revealed that the couple have split once again via an emotional Facebook post.
The Geordie lass, who is about to take on presenting duties on 'I'm A Celebrity...Get Me Out Of Here' explained that it was Luke's decision and that she's actually written about him in her brand new book.
> From Reality Stars To Sports Heroes - Here Are The I'm A Celebrity 2017 Campmate Rumours
In her emotional message, Scarlett wrote, "I'm gonna have to write it because I feel a bit awkward as I've done some interviews about him being in my book that aren't out for a while due to timings of the magazines. But me and Luke have finished due to a number of different things."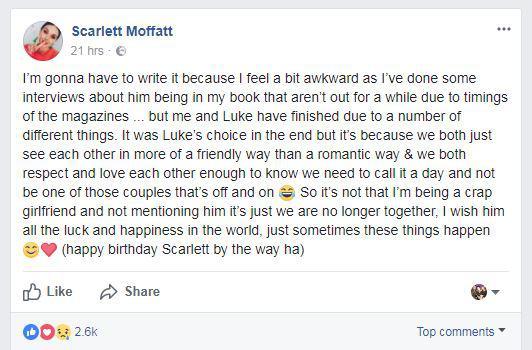 "It was Luke's choice in the end but it's because we both just see each other in more of a friendly way than a romance way and we both respect and love each other enough to know we need to call it a day and not be one of those couple's that's off and on."
"So it's not that I'm being a crap girlfriend and not mentioning him it's just we are no longer together, I wish him all the luck and happiness in the world, just sometimes these things happen. (Happy Birthday Scarlett by the way ha)."
Well that's a tough birthday!

In another post, Scarlett explained, "Well it's been an unusual weekend ha, but thanks so much for all the cards, pressies, calls, texts and comments wishing me happy birthday it's made my day."
Scarlett's first book entitled 'Me Life Story, Sofa So Good!' is out now and features her ex Luke in a number of chapters, but with the pair now split, she'll probabaly want to forget those parts pretty sharpish.
Being dumped on or around your birthday is never gonna be something you want to remember, but with Scarlett set to spend the next few months out in Oz filming with Ant & Dec, plus the release of her brand new book, 2017 is still looking good for the loveable lady!
> Download Our Fancy New App For More Exciting Celebrity Chat!
Whilst you're here, remind yourself of Scarlett's story about facing bullies at school...