"WTF Are You Doing?!" Fans Are Shocked At CBB's Sarah Harding & Chad Johnson's Steamy Antics
21 August 2017, 12:01 | Updated: 4 December 2017, 11:10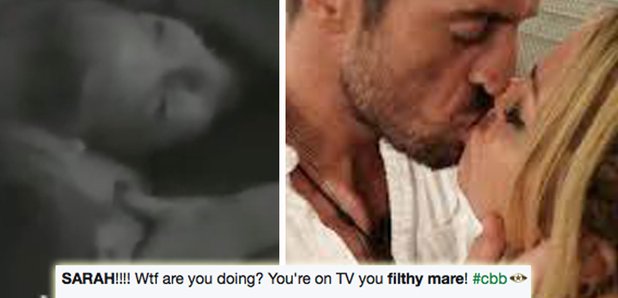 Sarah was filmed groping the reality star as they shared a bed.
Love Island might be over for another year but it looks like Celebrity Big Brother is set to take its place… fans were shocked to see some SERIOUSLY steamy scenes between Sarah Harding and Chad Johnson as the couple shared a bed together.
Sarah and Chad were filmed sharing a bed for the first time over the weekend, and Sarah was seen rubbing his crotch as the couple got up close and personal with the covers off.
It's understandable that viewers were pretty shocked by the display, and they didn't hold back on letting it be known on Twitter:
SARAH!!!! Wtf are you doing? You're on TV you filthy mare! #cbb #notion tv

— London lil' (@Londonlili) August 20, 2017
After watching lasts nights episode of Sarah and Chad #cbb pic.twitter.com/aDegiGoouX

— Aimée Murphy (@aimsb88) August 21, 2017
Catching up on last nights #cbb Sarah and chad! I'm far from a prude but

— Lindsey (@lindsey_thom) August 21, 2017
Wha...did Sarah just...Chad's chopper...WHY DID THEY BOTH HAVE SLEEPING MASKS ON?!???
Huh... are you okay Huns? oh god MY EYES!!! #CBB

— Hannah Bamba (@HannahxRCx) August 21, 2017
Me watching sarah and chad #CBB pic.twitter.com/Y19Sa4DOdr

— louise mackie (@Louisecarson69) August 21, 2017
This is me watching Sarah and Chad. Every. Single. Nauseating. Second #CBB pic.twitter.com/YoQIkK2HBJ

— Lisa Mallster (@Lisamallery3) August 19, 2017
Sarah and Chad, Sarah and Chad... argh my eyes!!! #CBB #CBBUK @bbuk pic.twitter.com/fKyVPcW5da

— Jason Lee (@ForeverAYellow) August 20, 2017
Watching Sarah and Chad like #cbb #cbbuk pic.twitter.com/IWsnuoHDYA

— ANASTAZIA (@__Anastazia__) August 20, 2017
Chad and Sarah have been trying to control their feelings for each other during their time in the house, with Sarah saying she would never have sex on the show. She explained, "I'm not going to do anything like that in the house... I've just got to maintain some decorum while I'm in the house."
The couple also agreed to become boyfriend and girlfriend in front of their housemates, not long after Sarah had admitted that she was seeing someone outside of the house before she joined the show.
She said at the time, "We care about each other and we're best friends in the house, but I just want to draw a line under it. I just feel terrible that I let my emotions get the better of me. I don't want to make a fool out of anybody.
"[He's] single and I've only been dating for four weeks, but I don't want to hurt someone who is a good person - they don't deserve to be hurt. I need to respect other people on the outside and take responsibility for my actions."