WATCH: Ryan Reynolds And Dave Berry RISK THEIR LIVES For Our Amusement!
It's alright for Deadpool - he has regenerative healing powers. But Ryan Reynolds risked it ALL when he faced Dave Berry in the most harrowing, life-threatening challenge ever...
If you haven't seen that 'Deadpool' movie trailer, you've either been living under a rock, or you're purposely going out of your way to really, really, REALLY upset us.
If you have seen it, you'd have noticed him wielding swords, smashing cars and dodging (albeit not very well) bullets. But that's nothing compared to what the Deadpool-actor, Ryan Reynolds had to face. Dave Berry got him to play...
Celebrity Pie Face. (Insert dramatic music here.)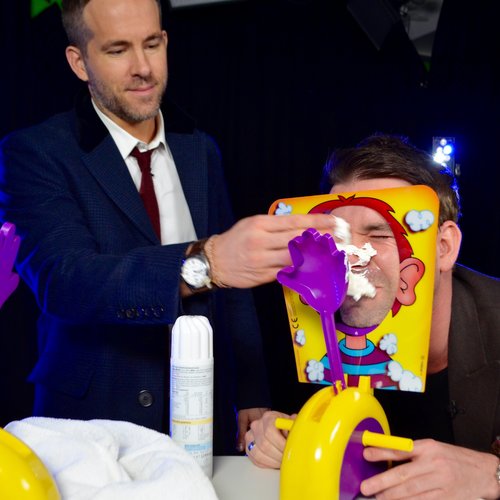 After the Deadpool team just won advertising with their emoji campaign, Dave asked Ryan which emoji was the most used. Yeah, Ryan kinda got the first question wrong.
At least the pie didn't whack him in his face after the first ques - oh. It did, did it?
Well, at least Ryan didn't have to refrain himself from swearing at Dave Be - oh. He did, did he?
We suppose it's a relief that at least Dave Berry didn't point and laugh in Ryan's face after he was spla - oh. Maybe we should just stop assuming.
You May Also Like...