7 Forgotten RuPaul TV Appearances That Had Us Screaming 'WTF'
16 March 2018, 15:54 | Updated: 16 March 2018, 17:09
If you thought RuPaul's Drag Race was his first step out into the TV spotlight, you've got a LOT to catch up on!
As one of the most popular shows in recent times, 'RuPaul's Drag Race' has had us hooked for almost 10 years, but whilst many people think that's where RuPaul's TV career started, we're here to tell you they're very much mistaken.
The legend that is RuPaul has been starring in films and TV shows since the 1980s, but did you know he'd appeared in all of these 7 iconic moments in entertainment history?
> WATCH: Fans Think This Is Harry Styles' 'Coming Out' Song
Sabrina The Teenage Witch
In a 1998 episode of the cult TV show 'Sabrina, the Teenage Witch', RuPaul made an appearance as The Witch Judge/Hairdresser. Starring both in drag and as himself, RuPaul's appearance alongside show regulars like Melisa Joan Hart was certainly a moment to remember!
The B-52s - 'Love Shack' Music Video
RuPaul hasn't just made his name by starring in TV shows - he's also a music video legend and his appearance in The B-52s 1989 party classic 'Love Shack' is something you simply can't afford to miss.Don't miss him in the white outfit.
Diana Ross - 'I Will Survive' Music Video

Not settling with just one music video, RuPaul then went on to star alongside one of his all time heroes, Diana Ross, in the official music video for her cover of Gloria Gaynor's 'I Will Survive' in 1995. Talk about living your best life!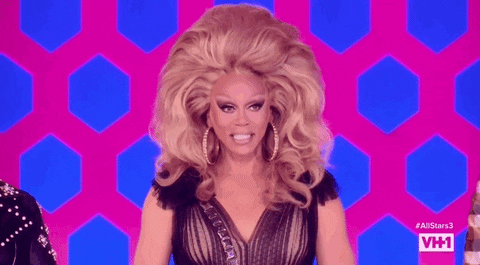 GIF: Giphy
The RuPaul Show
In 1996, over a decade before RuPaul's Drag Race aired, Ru had his very own chat show on VH1 called 'The RuPaul Show'. Ech week he'd interview loads of the biggest music stars of the time including Mary J Blige, Backstreet Boys and Nirvana.
The Weakest Link
In 2001, RuPaul appeared on a celebrity edition of Anne Robinson's classic gameshow 'The Weakest Link' and proceeded to give us one of our favourite answers to a quiz question EVER. "CHAKA KHAN" LOL!
Girlboss
More recently, RuPaul starred as Lionel in the Netflix hit show 'Girlboss', which was based on the autobiography of eBay businesswoman Sophia Amoruso, who started the Nasty Gal clothing empire.
His hilarious comments and brutal advice for main character Sophia were plauded by fans and critics alike and we're pretty sure he'll be springing up in a few more Netflix outings in future.
Bojack Horseman
Girlboss isn't the only Netflix show that Rupaul's played a part in though! His turn as Queen Antonia in the cult classic 'Bojack Horseman' was brilliant - somehow he managed to make an ant sassy and that is no mean feat.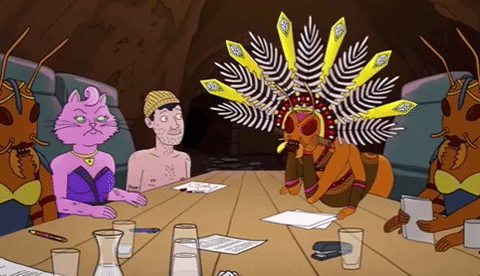 (GIF: Giphy)
> Download Our Fancy New App For All The Latest Celebrity News!
Love a bit of sass, then why not treat yourself to a viewing of Little Mix's 'Shout Out To My Ex'...