Blac Chyna & Rob Kardashian WILL Have Their Own Reality TV Show & They're Set To Earn LOADS
13 June 2016, 15:25 | Updated: 4 December 2017, 11:10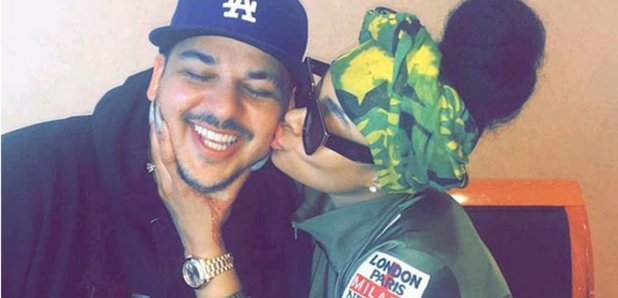 You won't believe how much they're set to make from their wedding… PLUS all the Kardashians will be invited - but will they come to the big day?!
The most-anticipated new reality show is apparently going ahead... and Blac Chyna and Rob Kardashian are even contemplating filming their wedding for the right price too!
Chyna and Rob confirmed that they will be starring in their own show, which will be produced by Kris Jenner, but are still in talks about a wedding special, but the couple want a million dollar deal for that episode - well, anything Kim Kardashian does...
The couple have already signed up for a reality show following their relationship in the lead up to their baby being born, made up of six, one-hour episodes and a special celebrating the birth. A spokesman for E! explained, "Very few love stories have created as much pop culture buzz as Rob and Chyna's, and we are thrilled to see Rob in such a happy place. We are excited to share the next chapter in their relationship."
Kris is also going to be enlisted to plan the wedding and the couple want all of Rob's sisters - Kim, Khloe, Kourtney, Kylie and Kendall - to be there too. And the wedding of the CENTURY is apparently closer than you think... Yep, despite only having dated for two months before getting engaged, Rob and Chyna are apparently planning to tie the knot within a year!
According to TMZ, the couple are planning a lavish wedding and they're both set to make a pretty penny from their impending nuptials. According to sources, several TV producers have put together offers for Rob and Chyna, and there's even talk of a documentary style series leading up to the big day which would net them between $150,000 and $200,000 each PER EPISODE which another $500k each for the finale.
While they would also likely get the flowers, cake and dress for free, there may be a Kris Jenner shaped problem with this equation - she has the whole family under a blanket deal that gives E! the first rights to any programming about the family... and she's also not a big fan of Rob and Chyna's relationship either... but it looks like she's put her misgivings to one side in order to make the most of the interest around the pair.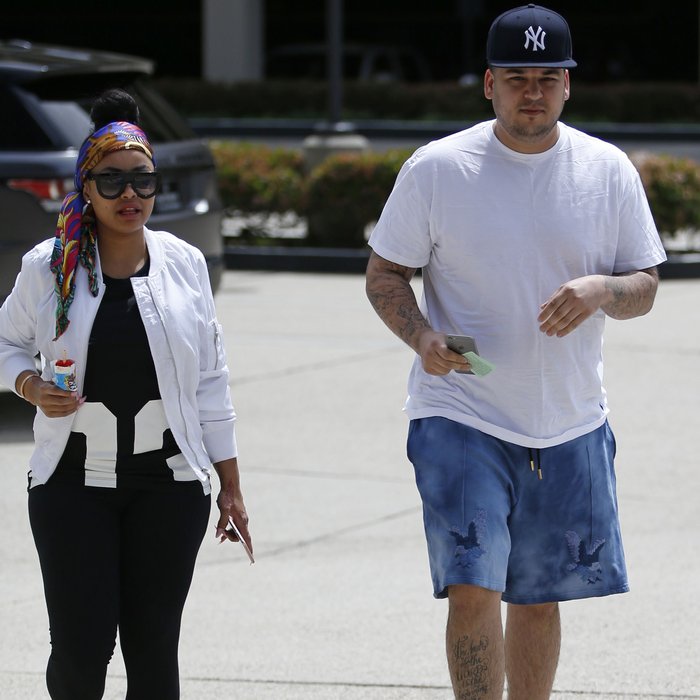 Sources close to the couple have also told TMZ that they don't want a long and drawn out engagement and are planning to get married within a year - and all of the Kardashian clan will be invited to their lavish do.
Rob and Chyna broke the news of their engagement at the start of April after she dropped a VERY big hint… in the form of a GIANT diamond on her wedding finger - and you'll never believe how much it cost!
Chyna posted a photo of herself and Rob on Instagram with the ring clearly visible with the caption just reading "YES!". Erm, you might as well have just spelt it out…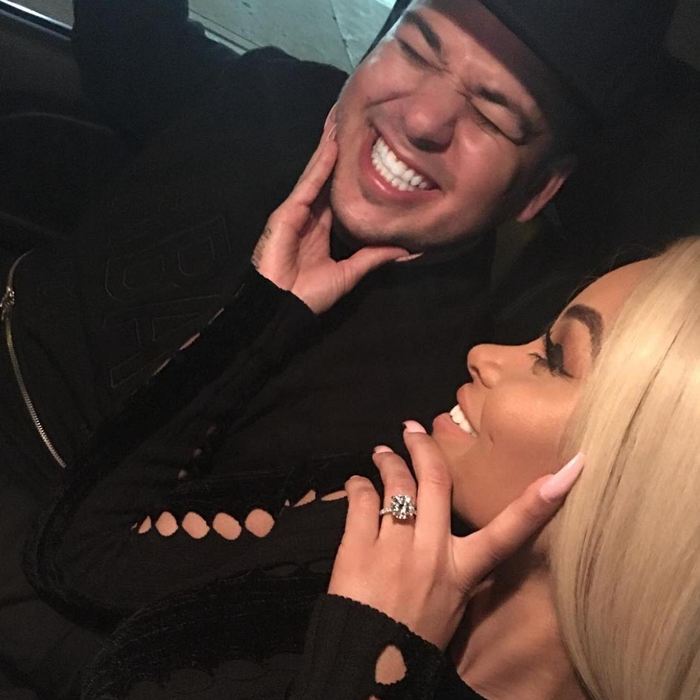 Well, it turns out that Rob dropped a HUGE $325,000 on that MASSIVE 7-carat rock - and he got it from Kanye West's favourite jeweller, Ben Baller.
Chyna's mum also commented on the picture saying she was "so happy" for the pair and the photo came just days after news broke that Rob had met Chyna's parents and they loved him - and his future mother-in-law even celebrated with the couple as they toasted their engagement... at a strip club called Ace Of Diamonds. As you do.
One thing that's had the fans guessing is what Blac Chyna will be calling herself once she gets married. Well, it turns out she's going for her real name of Angela rather than Blac Chyna Kardashian. A source told People, "She's soon to be Angela Kardashian. She's ecstatic. She was more than excited, she was thrilled, just super happy."
We're not so sure his family will be quite as excited as hers are about the engagement (well, she is his sisters (now ex) boyfriends ex and baby mama after all…) but there's one thing about the engagement that is bound to wind Kim Kardashian up especially…
… Chyna's ring looks a HELL of a lot like Kimmy K's. Well, it looks like Rob didn't have to look far for ring inspo!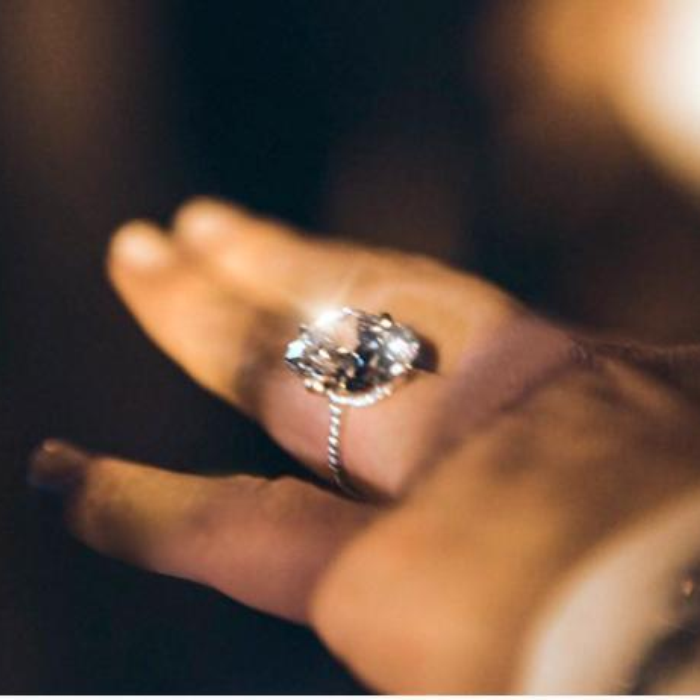 Blac Chyna's BFF, Amber Rose, also took to Twitter to congratulate her mate on her engagement, and posted a heart felt message on Instagram reading "Congratulations to my Family @blacchyna and @robkardashian!!! Please don't let nothing or no one tear u guys apart! I never seen my sis so happy and I couldn't be more happy for her! Sometimes we find love in the strangest places. Lol God Bless you 2! Now let's get this wedding together so y'all can start making some babies #TrueLove #putaringonitsouknowitsreal#BlacRob"
Congratulations to my Family @blacchyna and @robkardashian!!! pic.twitter.com/SnaEVwL94N

— Amber Rose (@DaRealAmberRose) April 5, 2016
While the Kardashian family are yet to comment on the engagement news, Chyna's ex Tyga, who was until recently dating Rob's sister Kylie Jenner, took to Twitter to give the couple his blessing and hit back at the people that had been posting comments asking if his son would now call Chyna 'mom' or 'aunty':
Everybody deserves 2 be happy. What some1 does for their happiness is not my concern, as long as it's not interfering wit my happiness.

— T-Raww (@Tyga) April 6, 2016
It makes me happy to see the mother of my son happy.My only concern in this situation is my son. I want him in happy environments.

— T-Raww (@Tyga) April 6, 2016
He's innocent in this. & I want him to feel as much love as possible.

— T-Raww (@Tyga) April 6, 2016
Only an evil heart would direct negativity at a child & make fun of him for being in a situation that is out of his control.

— T-Raww (@Tyga) April 6, 2016
When u been blessed how I've been, & create some1 u love unconditional, u'll understand how I feel. Ull want to protect that blessing.

— T-Raww (@Tyga) April 6, 2016
Cherish yo own blessings and stop hating mine.

— T-Raww (@Tyga) April 6, 2016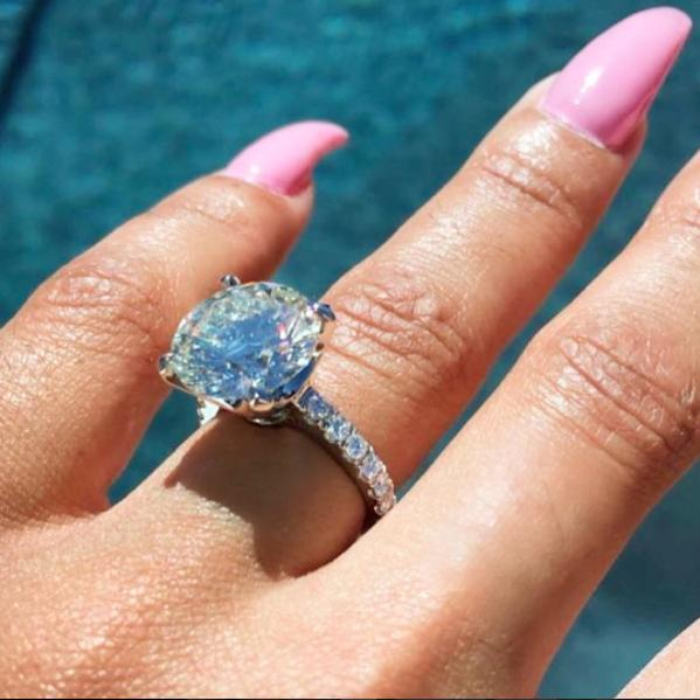 And while her friends and ex have commented on the news, none of the Kardashians have yet made any mention of the engagement despite being on social media pretty much 24/7. A source told People, "No one [in his family] is jumping up and down with excitement today. They have made a united decision as a family to not comment on social media yet about Rob's engagement. The news is not shocking, and not totally unexpected.
"There has been a fear that Blac Chyna is manipulating the situation with Rob. That he is getting himself into a situation that is not ideal for him. Blac Chyna has been great as kind of a rebound. As someone that got Rob out of a dark place, that helped him get motivated and healthy again. Let's just be honest, no one is really hoping for a marriage to happen."
We're already excited to see all the updates on what is bound to be the most outrageous wedding in the world - and it looks like they're going to be broadcast directly onto our TVs before we know it.