OK Go's New Video Shot In Zero Gravity With Exploding Paint Balls Will Literally Blow Your Mind
11 February 2016, 17:39 | Updated: 4 December 2017, 11:10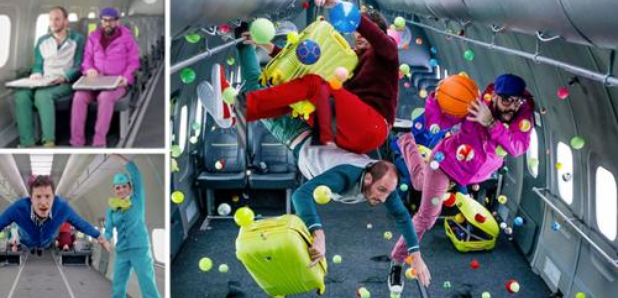 Or just make you feel sick.
They've done it again, another absolutely incredible one-take wonder from OK Go!
With a single named "Upside Down & Inside Out" of COURSE the only place to film the video would be in zero gravity! Featuring flight attendants that love a little boogie, floating laptops and exploding balloons filled with paint, the lads have absolutely KILLED it!
It starts off with them throwing laptops at each other - OBVIOUSLY.
And then they're doing floating press-ups - OBVIOUSLY.

Oh and there's flight attendants assisting with some aerobics - SURE.

And then the paint, omg the paint - how satisfying does that look to pop?!

Of course Twitter can't get enough of it.
Congratulations to OK Go for being the first humans to achieve interstellar travel and discover alien life while just making a video.

— @midnight (@midnight) February 11, 2016
Although we're not sure if this is a back-handed compliment?
OK GO: The only band who's as enjoyable muted as they are with sound

— Parker Stanley (@theparkstan) February 11, 2016
Check out this actual masterpiece right now.
OK Go - Upside Down & Inside Out

Hello, Dear Ones. Please enjoy our new video for "Upside Down & Inside Out". A million thanks to S7 Airlines. #GravitysJustAHabit

Posted by OK Go on Thursday, 11 February 2016