Nando's Are Giving Away Free Chicken For Students On A Level Results Day To Help You Celebrate/Cry
8 August 2017, 17:40 | Updated: 4 December 2017, 11:10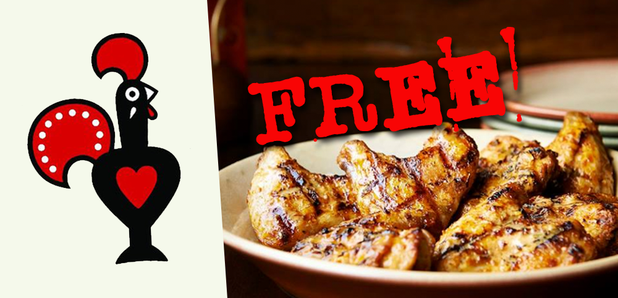 Yep - this really is happening!
A Level results day is a different kind of event for everyone.
For some of you it's a day of celebration as you toast a set of amazing results, whereas for others it's a disappointing day where you kinda wish you'd tried a little bit harder.
> This Group Of Girls All Found Out They Were Dating The Same Guy, Went All 'John Tucker Must Die' On Him & Now They've Gone Viral
One thing that can make it a bit better though, either way, is some FREE food from Nando's.
True friendship is knowing your friend orders Lemon and Herb but loving them anyway #InternationalFriendshipDay pic.twitter.com/8OsshUN2m6

— Nando's (@NandosUK) July 30, 2017
The South African restaurant chain are going the extra mile this A Level results day and have decided to offer every student a free quarter chicken - sounds good to us right?
To claim your free chicken on 17th August, all you need to do is bring your student ID and your A Level results and you'll be able to grab your freebie. You'll also need to spend £7, but that's basically a drink and a side, so you should be sweet!
NANDOS ARE GIVING US FREEBIES ON RESULTS DAY OMGGGGGGG pic.twitter.com/mkcravKHwX

— Alea (@AleaCarr_) August 7, 2017
According to Nando's, each student can only claim one freebie, so don't try heading back in later on to top up on your fave chicken.
But 'what if I'm a vegetarian/vegan and I don't eat chicken?' we hear you ask. Well, luckily the offer also applies to several veggie and vegan options so you can substitute your chicken for something that suits you.
Happy days!
GIF: GIPHY
So whether you're excited to head off to uni or you're taking some time to plan an apprenticeship etc, just remember how lucky you are to be munching on that free food.
Someone who does love a cheeky Nando's is Stormzy! Check out what happened when he surprised his mum and sister with brand new cars recently...
Jump into the Capital app for all the latest music goodness, plus all the biggest and best chart hits!