11 Pop Star Cameos You Probably Missed In Other Artists' Videos
21 April 2015, 07:00 | Updated: 4 December 2017, 11:10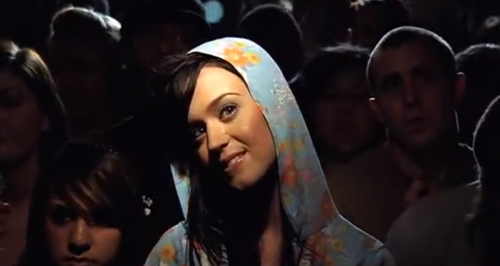 Ever watched a music video and caught a glimpse of ANOTHER pop star? Yeah? So have we! Here is your rundown of those cameos you might have missed on first viewing.
It turns out a LOT more pop stars crop up in each others music videos than we first thought. Whether you are one of the biggest solo artists in the world… ahem… Rihanna, or a former backing dancer, it seems pop acts really do like to make a cameo here and there.
1. 'Do It Like A Dude' - Jessie J
Cameo from FKA Twigs
Before FKA Twigs was dazzling us all with her unique music videos such as 'Pendulum' and 'Two Weeks' she was a a back up dancer for big time artists such as Jessie J, Ed Sheeran and Kylie Minogue. Look at those gnarly grills, gggrrrr.
2. 'I Kissed A Girl' - Katy Perry
Cameo from Ke$ha
This one is a little trickier to spot that some others mainly because there are about THREE girls who look identical in this video. But trust us, Ke$ha stars as one of Katy's minions. P.S she's not the happy, laughing, smiley one.
3. 'Fester Skank' - Lethal Bizzle
Cameos from Wretch 32 & Tinchy Stryder
The UK grime scene came out in force for Lethal Bizzle's 'Fester Skank'. Not only did Wretch 32 and Tinchy make an appearance, there were other cameos from Krept and Conan & Donaeo and Chip. #FESTER
4. 'I Really Like You' - Carly Rae Jepsen
Cameo from Justin Bieber
Canadians unite! Tom Hanks reminded us all how much we want him as a best friend for the first time since 'Big', however it is J-Biebz dancing cameo that really brings a smile to our faces. We really, really, really, really, really like it.
5. 'Cat Daddy' - Rej3ctz
Cameo from Chris Brown
American hip hop group The Rej3ctz will forever be known as the 'Cat Daddy' guys. The trio released the track in 2010 and it starred a very familiar face. Breezy pretty much 1 UP'd everyone in this video with his sweet moves.
6. 'That's The Way Love Goes' - Janet Jackson
Cameo from Jennifer Lopez
Before J Lo was 'Jenny from the block', she was more commonly known as 'that dancer who most definitely looked at the camera in that old Janet Jackson music video'. Needless to say, Jennifer had the last laugh with EIGHT studio albums to date and countless movie roles #Winning.
7. 'Partition' - Beyonce
Cameo from Jay-Z
When your husband is the world's greatest rapper, you might as well draft him in for a couple of frames, right?
8. 'Cupid's Chokehold' - Gym Class Heroes
Cameo from Katy Perry
Before the 'Roar' superstar had played the Superbowl half-time show, released her own blockbuster movie and basically become one of the biggest pop stars in the world, she played the twee girlfriend of Gym Class Heroes frontman Travie McCoy in this video. (Bonus fact: they were dating in real life too).
9. 'Anaconda' - Nicki Minaj
Cameo from Drake
Away from the bikini clad girls in the jungle, Drake lives out many a guy's fantasy as he finds himself receiving a pretty intense lap dance from Miss Minaj.
10. 'Paranoid' - Kanye West
Cameo, well, starring Rihanna
We know, we broke the rule. It's not exactly a cameo, however Riri's appearance in Kanye's 2008 hit 'Paranoid' was just WAY too badass to not feature in this list.
11. 'Superpower' - Beyonce… again
Cameos from Pharrell Williams & Destiny's Child
Who run the world? Girls… and Pharrell. We think we've all learnt something today and it's that Queen B has some major star pulling power when it comes to hiring some pop icons for her music videos.