MTV EMAs 2015: 11 Most Talked About Moments Incl. Flamethrowers, Swegways & Banana Jokes!
25 October 2015, 23:17 | Updated: 4 December 2017, 11:10
From spaghetti dresses and risky banana games to swegway dance routines and flamethrowers... this year's show had it ALL.
And that's a wrap! The MTV EMAs 2015 took place Sunday night (25th October) in Milan, Italy and saw some HUGE performances, crowned a lot of winners (including SIX for Biebs!) and had Ed Sheeran and Ruby Rose steal the show with their HILARIOUS hosting spots.
But which were our FAVE must-see moments from the show itself? We've picked out our 11 top moments from crazy ass outfits and show-stopping performances to funny exchanges and incredible dance moves...
1. OK so we HAVE to start with co-host Ruby Rose's amazing outfit changes throughout the night. Our favourite one being this spaghetti pasta number...
2. Our jaws pretty much dropped when the guy from Twenty One Pilots mistook the EMAs for the Olympic high jump event and ACTUALLY leapt over a piano... #MadSkillz
3. The moment Ed Sheeran fired a glitter gun and the kickback was a LITTLE bit too much for the poor lad...
That thing looks powerful, @edsheeran. #MTVEMA https://t.co/mvIRtptBXB

— MTV EMA (@mtvema) October 25, 2015
4. Yeah so Jason Derulo pretty much blew us away when he and his dancers rocked a routine performed... on SWEGWAYS!
5. Poor Hailey Baldwin stumbling over her words while presenting a gong. "Nomishnations?" Bless...
I need to learn how to say "nominations" lol. First time presenting, I was freaking out.

— Hailey Baldwin (@haileybaldwin) October 25, 2015
6. Ruby Rose had NO trouble when it came to controlling her weapon. FIERCE!
7. Fifth Harmony made their red carpet walk one to remember, with a full-on performance! #WorthIt
8. The banter between Ed Sheeran and Ruby Rose just in general. Especially this one about a game of 'Hide The Banana'...
These two. @edsheeran @rubyrose #MTVEMA https://t.co/BRm3sH0IAX

— MTV EMA (@mtvema) October 25, 2015
9. Ellie Goulding ACTUALLY performed 'Love Me Like You Do' from the centre of a giant diamond. As you do...
10. Also... yeah, this happened!
11. Not only did Tori Kelly perform with Andrea Bocelli... she also only went and covered TLC's 'No Scrubs' and The Fugees!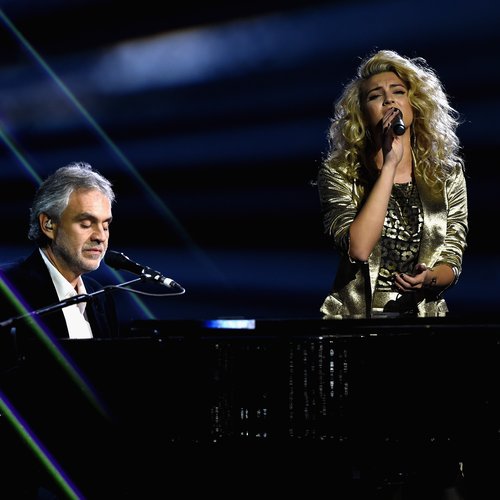 You may also like...