The 20 Most Viewed Music Videos Of 2015... So Far
3 April 2015, 12:00 | Updated: 4 December 2017, 11:10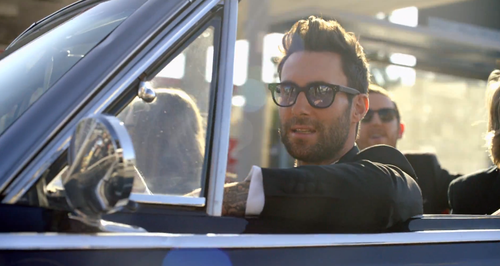 We might only be a quarter of the way through the year, but there's already been some killer tracks released, as well as some amazing music videos.
You've been flooding to CapitalFM.com in your MILLIONS to watch some of the latest promo clips from your favourite artists, so we're counting down the top 20 music videos of this year so far.
20. Tough Love - 'So Freakin' Tight'
They may have been relatively unknown last year, but fresh-faced London duo Alex & Stef have obviously struck the right chord with you lot - their debut single 'So Freakin' Tight' is a definite jam for summer.
19. LunchMoney Lewis - 'Bills'
Another debut single on the list, this time from a former Nicki Minaj collaborator, LunchMoney Lewis. The jolly rapper dropped his video for 'Bills' only last month, but it's already creeping up our list and you're loving it.
18. Sam Smith - 'Lay Me Down'
What a surprise, one of the biggest voices in the WORLD right now makes the cut! Anyone who's anyone wants to work with Sam, and you guys can't get enough. 'Lay Me Down' is the latest track taken from Sam's phenomenally successful debut album, 'In The Lonely Hour', and is still riding high in the Big Top 40 chart.
17. Ed Sheeran & Rudimental - 'Bloodstream'
From one massive UK voice to another - Ed had the biggest album of 2014, and 2015 looks to be just as huge for our favourite flame-haired singer. 'Bloodstream' was a fan favourite on his second album, 'X', and has been completely remastered to feature drum and bass party Rudimental. Insane!
16. Maroon 5 - 'Sugar'
We don't know which reason to go with for this track being on our list, it could be that the song is so amazing that you're listening to it on repeat, or it could be that you keep watching it over-and-over praying that Adam Levine and co. will show up at YOUR wedding. Actually, it's both. Yeah, both.
15. Avicii - 'The Nights'
Half of the views for this video have probably happened in the Capital office, wondering how this "professional life liver" has such an amazing life! If there's anything worth doing before you die, it's in Avicii's video for 'The Nights'.
14. Charli XCX feat. Rita Ora - 'Doing It'
Two of our favourite babes of 2014 got together at the end of the year to create one incredible song, with one trippy video. Obviously we're still loving it!
> New Music Releases To Download And Stream In 2015
13. Alesso feat. Tove Lo - 'Heroes (We Could Be)'
We couldn't get enough of Swedish Tove Lo's debut single, 'Stay High', back in early 2014, so when we learned she was partnering up with superstar DJ Alesso we were very excited. Clearly you were too, with their track, which takes lyrics from David Bowie's 1977 track, storming the Big Top 40 chart this year.
12. Ed Sheeran - 'Thinking Out Loud'
Not only has the track not left the Big Top 40 chart in over half a year, the video is STILL proving to be a massive hit this year. Ed's smooth ballroom moves have you still watching this promo in your millions!
11. Taylor Swift - 'Blank Space'
Another incredibly popular song and video from 2014, but 4 minutes of Tay Tay going cray cray is still proving to be a huge talking point.
10. Ellie Goulding - 'Love Me Like You Do'
Obviously a track that spend several weeks at the top of the chart this year will be riding high on this list, especially when it's the lead track from one of the most anticipated films of recent years - Fifty Shades Of Grey.
9. Pharrell - 'Happy'
Will this song EVER go away? The answer's probably no... The track's been around for well over a year now, but you're still flocking to this video in your millions in 2015! Must be those good vibes.
> 13 Old School CLASSICS To Get You In The Party Mood
8. Philip George - 'Wish You Were Mine'
The Nottingham-born producer really shook things up on the Big Top 40 when his debut single, 'Wish You Were Mine' dropped earlier this year. It's become such a massive tune in the past few months, that we're predicting huge things for him in 2015.
7. Carly Rae Jepsen - 'I Really Like You'
Just when you thought Carly Rae Jepsen would only have one huge catchy hit in her career, the 'Call Me Maybe' star is back for 2015. Not only is the song guaranteed to get stuck in your head (all the time!), Tom Hanks even stars in the video. What more could you ask for? (Hey, at least it's not Rebecca Black!)
6. Meghan Trainor - 'All About That Bass'
She may have dropped two new videos since her debut single last year, but you're still loving 'All About That Bass'. Meghan Trainor's first ever song in the UK spent an impressed 5 weeks at the top of the Big Top 40 chart last year, which was a RECORD! Shame she only held it for a few weeks...
5. Rihanna feat. Kanye West & Paul McCartney - 'FourFiveSeconds'
*NEW RIHANNA ALERT!* Obviously RiRi's comeback single, and first track from her upcoming R8 album would send the Internet in to meltdown. Throw in musical legend Paul McCartney (ask your mum) and controversial rapper Kanye West and there's sure to mass hysteria!
> Rihanna's 19 SEXIEST Music Videos To Get You Hot Under The Collar
4. Cheryl - 'Only Human'
The nation's sweetheart - of COURSE the X-Factor queen made this list. Being at one with nature in her promo for latest single, 'Only Human', has obviously struck a chord with you lot, making it the fourth most viewed video since January.
3. Mark Ronson feat. Bruno Mars - 'Uptown Funk'
You know what record Meghan Trainor set? Well this is the track that SMASHED it! Spending an impressive 7 weeks at the top spot, this is clearly one of the biggest songs of the DECADE so far, let alone the year! Since its rush release before Christmas, it hasn't left the top 10, and hundreds of thousands of you watch this video everyday. Why? Because it's awesome! Don't believe us, just watch!
2. Jess Glynne - 'Hold My Hand'
After a string of number 1s with supporting vocals for Clean Bandit and Route 94, Jess FINALLY bagged herself her first solo number 1 on the Big Top 40 in March. 'Hold My Hand' has been a firm favourite on the Capital playlist ever since, and the video is just as energetic as the track.
1. Taylor Swift - 'Style'
Was this ever in doubt? The world's biggest pop princess is ALWAYS in the news for being genuinely lovely, so it's no surprise that you're still watching her videos in your millions. 'Style' is officially the most viewed video on CapitalFM.com so far this year - but with a hot summer of fresh new music still to come, we wonder how this list will look in a few month's time?