Rihanna's Sexiest Music Videos: 19 Ri-Ri Classics To Get You Hot Under The Collar
20 November 2015, 15:26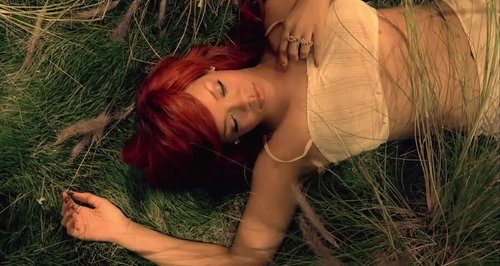 From 'S&M' to 'Disturbia', Rihanna's no stranger when it comes to raunchy promos, and these are definitely the ones to get you a little bit excited!
"If you've got it, flaunt it" must have ALWAYS been Rihanna's mantra, especially if her music videos are anything to go by.
The Bajan beauty has been getting us all hot and bothered with her promo clips since she dropped her debut single back in 2005 (yes, 'Pon de Replay' was a DECADE ago!), so we thought we'd rank the SEXIEST videos she's ever made.
You are VERY welcome!
'We Found Love'
Still one of our favourite Calvin Harris collabs of all time, this steamy music video dropped in 2011 and didn't only star a half naked RiRi, she was joined by her rumoured boyfriend at the time, Dudley O'Shaugnessy.
The video was filmed in Bangor, Northern Ireland, where a farmer yelled at a (rather topless) Rihanna to "get off my land and find God!" during filming - doesn't get much raunchier than that!
'Where Have You Been?'
Not just a dirty beat, but dirty moves too. Don't lie, you know full well that when this comes on in a club you're doing that dance where you do 'big fish, little fish, cardboard box' over your downstairs parts... (Seriously, skip to the 3 minute mark and you think of a better way to describe that routine!)
'Take Care' (Drake feat. Rihanna)
Rihanna and Drake were always the couple we hoped would be the next Beyonce & Jay Z, but that never happened... Doesn't stop them getting close and steamy in this video though!
'Only Girl (In The World)'
The red hair, the seductive glances, the skimpy outfits? Okay Rihanna, you win. You ARE the only girl in the world for us!
'Shut Up & Drive'
If Rihanna learned one thing in 2007, it's how to get guys interested in her music videos. Turn up in a Ferrari, wear something revealing, set it in a mechanic's workshop full of women, throw in a drag race and add an electric guitar riff to your tune for good measure. Recipe for HOTNESS!
'Stay feat. Mikky Ekko'
Obviously a song so slow, stripped-back and sensual should have a video to match. So Rihanna just decides to get naked and have a bath. Fine by us!
'You Da One'
No Rihanna, after this thrust-filled video, you are DEFINITELY da one!
'Disturbia'
For such a dark song, we shouldn't find the video for 'Disturbia' sexy, but director David LaChapelle definitely worked his creative magic! Spiders aside, gothic Rihanna is definitely someone we can get on board with.
'S&M'
Oh come on, with a song title like that you can't expect a vanilla music video, can you? Expect leather harnesses, PVC and men on dog leads. Casual.
'Can't Remember To Forget You' (Shakira feat. Rihanna)
Okay, now this is verging on an 18+ rating! Take the already hot Rihanna, remove most of her clothes, and have her writhe around on a bed with the woman whose hips famously don't lie... Pure filth (and we love it!).
'Pon De Replay'
This is where it all begins! A cute and fresh faced Rihanna trying to get a club pumping back in 2005! Although we won't ask what sort of night club knowingly lets a 17-year-old in to tell the DJ what to do... But still expect exposed flesh and seductive dance moves.

'If It's Lovin' That You Want'
Another blast from the past! Taken from Rihanna's debut album, 'Music of the Sun', the video sees RiRi and her equally beautiful friends frolicking on a beach in bikinis. What more could you want to watch when it's cold and rainy outside?
'SOS'
Album two, 'A Girl Like Me', that's when Rihanna went from girl to woman - at least if the video for 'SOS' is anything to go by! Cue the revealing outfits and a constant sheen of sweat all over RiRi's body.
> Rihanna's New Album: 26 Things To Expect From #R8

'California King Bed'
While not the raunchiest of Rihanna's hits, the song is about being a big bed - so what more would you expect of a music video than Rihanna rolling around in her bra and knickers? Maybe throw in a muscley man in the shower in there for good measure.
'We Ride'
Beach scene? Check. Cleavage? Check. Seductive dance moves? Check. All the staples of a sexy Rihanna video are in this promo clip from 2006!
'Umbrella feat. Jay Z'
Unless you were living under a rock with your fingers in your ears, you'll DEFINITELY know every word to Rihanna's 2007 SMASH! Although we love the sexiness of the video and the catchiness of the song, we'll still never forgive her for causing a summer of torrential rain! Did we mention that she filmed it on Friday the 13th?! Oh Rihanna, you evil temptress!
'Russian Roulette'
Everyone knows that dangerous women are sexy, so a music video featuring one of the hottest women alive called 'Russian Roulette', you'd expect to give grown men heart attacks! Not far off...
'Hard'
Rihanna in a military outfit, bossing a load of soldiers around and gyrating on a tank? We predict sign-ups for THAT army went up by millions!
'Princess of China' (Coldplay feat. Rihanna)
Mix Rihanna with Memoirs Of A Geisha, get her to perform some serious martial arts moves, and you've definitely raised our blood pressure!
Want more Rihanna hotness?
Check out Rihanna's sexiest EVER photos!