WATCH: Millie Bobbie Brown Revealing She's Taking A Break Due To Exhaustion Is Heartbreaking
27 March 2017, 15:43 | Updated: 4 December 2017, 11:10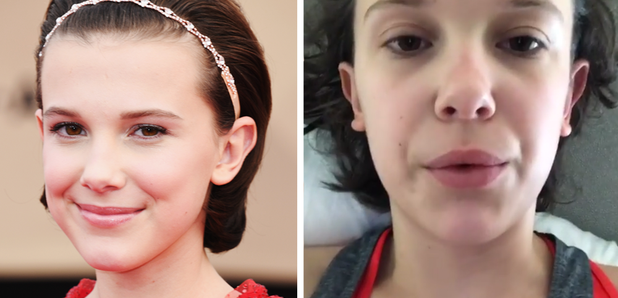 She works exceptionally hard for a 13 year old!
When we were her age, we were rushing home after school to catch the latest episode of Tracey Beaker (or The Queen's Nose if you're a bit older), but Millie Bobbie Brown doesn't have time for that.
To be honest, you'd be more likely to find her starring in one of those shows rather than rushing home to watch them!
The Stranger Things star has been working tirelessly over the last couple of years and her role in the hit show as Eleven has catapulted her to a level of stardom not many youngsters will ever experience. Sadly though, it seems to be taking its toll on her...
In the very honest and open video above, which Millle posted to her Instagram account recently, she explains, "I've had to cancel at Collective Con last minute, which is something I've never done and I'm planning on never doing again."
"I just think I've worked too hard and I have to rest as I've had a really long shoot and I'm still filming Stranger Things. I'm sorry to everyone who's going and I promise you guys I'm going to get back to you."
Normally a bubbling, bundle of energy, Millie looks physically tired after a long filming season and it's only right that she makes time for herself and gives herself a chance to rest.
Millie's fans were quick to reach out and support the fatigued star...
@milliebbrown there's no need to explain yourself im glad you're taking care of yourself

— katie₁ (@willsbyers) March 25, 2017
@milliebbrown try to sleep and relax sweetheart, get some rest! stay safe and healthy, i hope u get better! hurts on me see u bad, ily

— amanda (@hawkinsfalls) March 25, 2017
@milliebbrown Rest as much as you can Milster. Being in the upside down is definitely exhausting.

— RALPH (@theRXLPH) March 25, 2017
@milliebbrown We understand and know that you give your all, but you need to rest and be well! Your well-being is more important.

— victória (@milliebwbby) March 25, 2017
We hope she's feeling back to her usual self soon!
You may also like...