Fans Spot The Incriminating Evidence Marnie & Aaron Hooked Up Again On Geordie Shore
15 March 2018, 12:36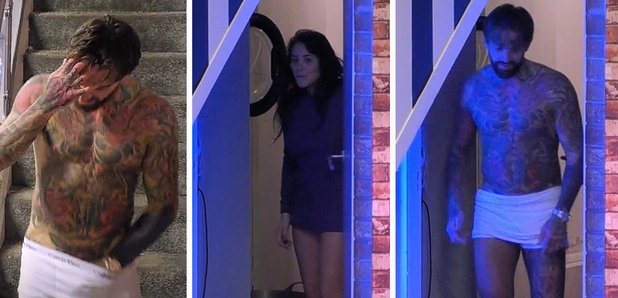 The on-off couple are both dating other people.
Marnie Simpson might have announced that she has quit Geordie Shore, but it looks like one thing that's not over is her on/off relationship with co-star Aaron Chalmers.
Geordie Shore's Sophie Kasaei Scared Off A Burglar Who Robbed Her Home With A Knife
In this week's episode the couple were filmed going to the toilet together so Marnie could "be sick"… but eagle-eyed fans spotted something which gave away that the couple seemed to have been up to no good behind the closed door.
When Aaron walked down the stairs to go into the bathroom, he had his boxer shorts on the right way around… but when he came out they were mysteriously on back to front!
If you're going to sneak into the toilet and cheat on your partner at least put your boxers back on the right way went in with them normal came out with them inside out #marron #geordieshore @AaronCGShore @MarnieGShore @CaseyCodyJ pic.twitter.com/pVgUNItZqD

— _bethalexandraa (@_lohm) March 13, 2018
We know these two have been on and off a thousand times, but they are both in relationships with other people!
Fans were quick to spot the couple's faux pas though there has been no word from either of them or their other halves…
Anyone else find it overly dodgy that Marnie and Aaron go to the toilet for ages then they pinky promise as soon as they get back to bed eeeeek #geordieshore

— beth. (@bethanevans10) March 13, 2018
Hmm wonder wit Aaron n Marnie were pinky promising about there ???? Doing the dirty on there bf/gfs

— Nicole (@nicole_cushnan) March 13, 2018
Marnie and Aaron have well cheated on their partners. Redneck! #GeordieShore

— victoriamcgeoughx (@weemcgeough) March 13, 2018
#geordieshore

How disgusting is Aaron and Marnie seriously. Both in relationships need some respect for their partners.

— Chloe Louise (@chloe_maude) March 13, 2018
100% Aaron & Marnie did something in that toilet! The boxers are the give away! #GeordieShore

— Chloe Turner. (@chloeturner94) March 14, 2018
How can Marnie still be with her boyfriend and Aaron still be with his bird after that episode? In the toilet together that Long and he walks out with his boxers on backwards cheating bastard #geordieshore

— Laura Kerr (@laurakerr19) March 13, 2018
There's absolutely no way Marnie and Aaron didn't do anything in that toilet! Even if it was scripted they shouldn't of agreed to make there relationships look like a joke! #GeordieShore

— Jessica Amanda (@Jessica81264028) March 15, 2018
Wow snake Marnie strikes again with Aaron. What was she saying about disrespectful earlier on in the series? These two have cheat written all over them #geordieshore #cringe

— Andrea (@parky_2) March 14, 2018
Of course there may be a perfectly innocent explanation to the back-to-front boxers… but neither of them have commented since their denials on the episode!
> Download Our Fancy New App For All the Latest Geordie Shore Chat!