This Pregnant Kylie Jenner Lookalike Had Everyone Fooled It Was Her
18 January 2018, 11:19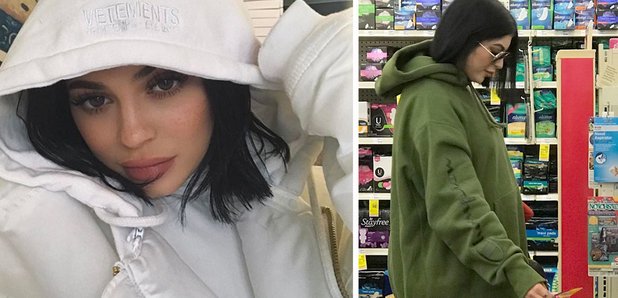 Because after months of hiding, she WOULD go on a casual trip to the pharmacy.
Picture: Instagram/Backgrid
After photos surfaced seeming to show a heavily pregnant Kylie Jenner browsing the baby aisle at a CVS pharmacy, it's safe to say a LOT of people were fooled…
But despite the lookalike and the cleverly set up photos, the pics are clearly not actually of the youngest Kardashian sister.
Fans were quick to point out that as well as her face being a little different to Kylie's, it's unlikely that after months of hiding and getting her family to avoid questions about her 'pregnancy', the real Kylie would just casually pop out to her local CVS and openly look at baby items. Duh.
imagine thinking this is actually kylie and that she would go to a cvs undercover when she's been in hiding for so long instead of sending an assistant lmao https://t.co/jilUA5Ram4

— em (@swiftshandstied) January 16, 2018
Oh yes, after months of hiding Kylie is just gonna randomly turn up at CVS and let people take photos of her in plain sight.... https://t.co/sd6MXzQKHK

— Chloé (@Khlomoney98) January 16, 2018
No one is around Kylie in those photos. No security. No paps are shooting from a long lens inside a CVS. This is an inside job to get the hate off of Kendall brought to you by the one and only: Kris Jenner pic.twitter.com/0OpxJcx02T

— Kris (@kristepa) January 16, 2018
Lmaoooo @ those pics of a fake kylie Yal know damn well when Kylie decides to let everyone know shes pregannt its not gonna be pics of her in a CVS

— Jake (@thejakekardash) January 16, 2018
You're trying to tell me that Kylie Jenner went into hiding for the past four months and had her family and friends publicly lie when directly asked if she was pregnant just to be discovered with her huge baby bump in a CVS???

— roberto (@robertodmusso) January 17, 2018
did anyone really think that woman at cvs was kylie jenner

— lauren ashley (@dapperlylauren) January 18, 2018
The real Kylie has barely been seen in the past few months since rumours surfaced that she might be expecting and new reports suggest that she might end up giving birth by caesarean section after complications in her pregnancy.
According to RadarOnline Kylie is due in late February or early March and, "she is having some minor complications right now that may force her to deliver the baby [via] C-section.
"It is nothing too alarming; her docs think that it would be the best option for the delivery."