Kim Kardashian Trolling Her Haters With These Valentine's Gifts Is The Ultimate Shade
2 February 2018, 16:04 | Updated: 2 February 2018, 16:09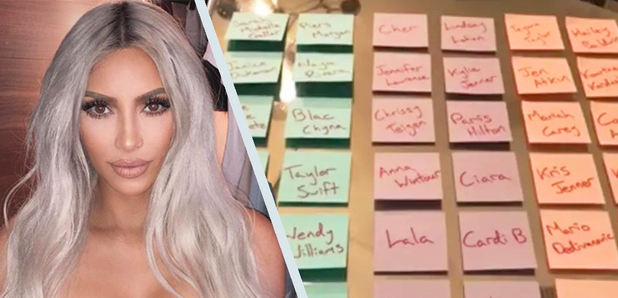 Kim's petty level is on 100.
Kim Kardashian has been going hard with her clap back game recently and is back again throwing all the shade, this time at her "haters."
The reality TV mogul has been furiously promoting her new KKW fragrances in time for Valentine's Day and she's doing something different this year by gifting them to her foes as well as friends.
> Kim Kardashian Drags Lindsay Lohan In Shady Instagram Battle
In a clip posted to her Snapchat on Thursday, the 37–year-old can be seen recording a table filled with different coloured post it notes laid out on a table as she says: "I decided for this Valentines Day everyone deserves a Valentines, so I'm going to send them to my lovers, to my haters, to everyone that I think of because it's Valentines Day after all."
With a list of names like Taylor Swift, Blac Chyna, Wendy Williams, Chloe Grace Moretz and Piers Morgan, it's very obvious which colour cards are her "haters."
We really don't see any of these people actually using the fragrance, especially Piers Morgan who tweeted about being "proud and humbled" to be the only man that made the list, cheekily hashtagging "#KeepingAwayFromTheKardashians."
Considering the mum-of-three's recent online spat with Lindsay Lohan we're surprised that Linday's not on the list.
> If You Want More Of The Tea, Download Our App Now!
Talking of sassy spats, here's a throwback to Kim talking about the awkwardness between Kendall and Taylor Swift...meow.