Fans Are Convinced Kim Kardashian's Insta Post Has Revealed Her Baby's Name
18 January 2018, 16:37 | Updated: 19 January 2018, 12:38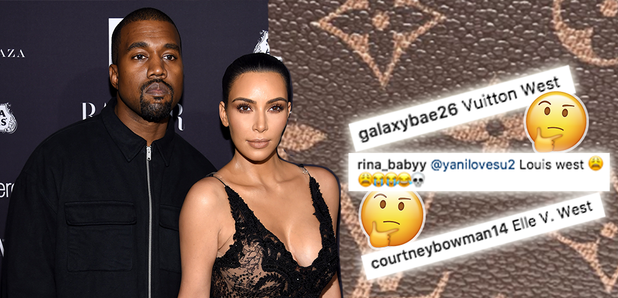 Vuittonda Love West?
Kim and Kanye welcomed their third baby into the world on Monday and Kim shared the news online with all of her fans, however she failed to reveal a key thing that fans are all waiting for…a name.
The little 'un already has an older sister called North and a brother called Saint and people are speculating about what they're going to name their youngest girl.
Since announcing the birth, Kim's posted a pic of herself (because Kim) and captioned the pic #momofthree, but her most recent post which is a very random pic of the Louis Vuitton print has people thinking that she's trying to give us some clues.
Fans have been chucking around a load of names inspired by the fashion label, with everything from Elvee to Elvie (for LV) to Vuittonda which definitely takes the cookie as Donda was Kanye's mum's name.
One person commented: "Is this a sign that the kids name is Louis Vuitton"
"Louis West/ Lovve West," was another person's hot take on the subject.
A few people were also convinced that Kimye would be naming their new daughter "Love" and it's probably because of this confident person who is convinced that: "Apparently the name is love."
Considering we were all rooting for Saint to be called either South, East or Easton and they went and called him Saint, we're pretty sure no one's going to be able to guess this baby's name.
Here's hoping they take after this tweet and name the baby something normal for bants.
Please let Kim and Kanye name their new baby something totally normal. These are my kids: North, Saint, and Janet. Delightful juxtaposition.

— Annabeth (@TheAspenGrove53) January 16, 2018
If you're patiently waiting for the big baby name reveal, watch this sweet Kimye family film while ya wait...