Is Kim Kardashian On Snapchat?! Twitter Wants Nothing More Than Her Username Right Now
8 February 2016, 13:03 | Updated: 4 December 2017, 11:10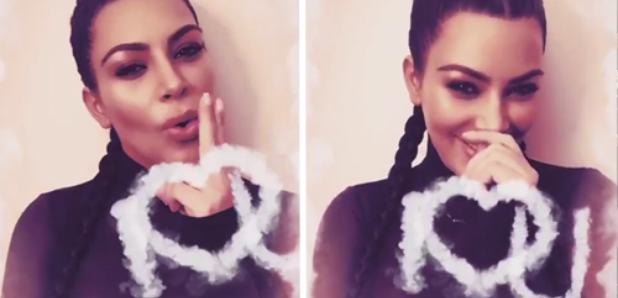 Praying for a rainbow-vomit selfie from Kimye tbh.
When the Queen of taking selfies is rumoured to be joining Snapchat, it's kind of a big deal.
Seriously though, imagine if North was to 'accidentally steal her phone' again and just go to town on uploading Snapchat filter videos?! Anyway, let's take it back to the beginning...
Back in January she met with the King Of Snapchat himself, DJ Khaled and teased us all.
Should I? #SNAPCHAT pic.twitter.com/KT2ePOKGn4

— Kim Kardashian West (@KimKardashian) January 5, 2016
Obviously everyone thought Kim joining Snapchat was a total no-brainer
@KimKardashian YES KIM YOU'LL MAKE HISTORY ON SNAPCHAT! #KIMSNAPCHAT

— Narbeh Kardashian (@NarbehKardash) January 5, 2016
And then at the Superbowl she picked up tips for the platform
Thank you @patmcgrathreal & @jenatkinhair for the fun shoot and showing me so much about snap chat today! LOL pic.twitter.com/FQK00ufz5k

— Kim Kardashian West (@KimKardashian) February 7, 2016
And killed us all with a video using the Snapchat filter
February 7, 2016
Which sent some people into a full-blown panic
@KimKardashian @Clarissacastle3 OMFG MOM HAS A SNAPCHAT!!!! I NEED TO KNOW WHAT IT IS ASAP

— abe* (@abeintx) February 7, 2016
Could we even see a hashtag campaign kicking-off?
@KimKardashian when are you gonna get snap chat?? #kim4snapchat

— lauren brindle (@brindle1805) February 8, 2016


But now it's just a case of playing the waiting game.
@KimKardashian Sitting Here Waiting For You To Drop Your Snapchat Like... pic.twitter.com/n5tcUBOorw

— Kris Fox (@ItsKrisFox) February 7, 2016