Everyone's Confused Why Khloe Kardashian Had A #Spon Baby Shower When She's A Millionaire
12 March 2018, 14:44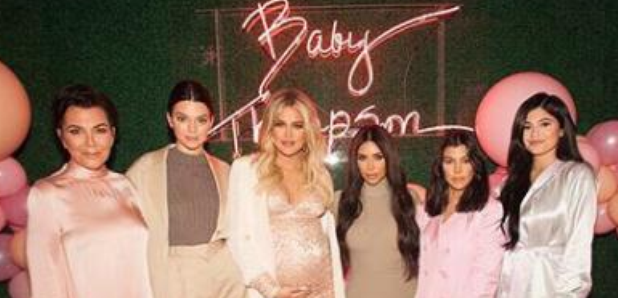 Like… she can afford it?
We know the Kardashians are pretty great at making money, but we were still a little bit surprised to see that Khloe Kardashian's baby shower was a #spon affair.
Khloe put on a decadent pink, elephant-themed affair to celebrate the impending birth of her first baby but fans were quick to notice that the whole affair was sponsored by Amazon.
Khloe posted, "Had the most unbelievable baby shower - we felt so much love! #ad So grateful to be surrounded by a beautiful support system. And special thank you to @Amazon for helping me bring it all together! More pictures to come! #AllOnAmazon #AmazonBabyRegistry"
Fans hit back at the fact Khloe or her family could easily have afforded to fund the shower rather than seek a sponsorship deal:
@amazon I heard you sponsored Khloe's baby shower...why don't you do that for folks who CAN'T AFFORD to throw their own. Why do celebrities get handed things?

— Stephy (@ShortandProud1) March 12, 2018
So @amazon decided to throw Khloe Kardashian a baby shower and give her all the supplies she needs. Meanwhile hurricane, wildfire, and other not millionaire victims who actually need things in this country get nothing.

— Laissez Bear (@Laissez_Bear) March 12, 2018
so Khloe had her baby shower and it was sponsored by Amazon.... TACKY AF.

— Alicia. (@Lissia) March 12, 2018
Why why Khloe Kardashians baby shower sponsored by @Amazon? pic.twitter.com/A866gAWZPJ

— PrincessHeidiii (@1ztBornUnicorn) March 12, 2018
So Amazon sponsored Khloe's baby-shower why I ask myself it's not like they couldn't afford it??

— Angelique (@Angelique0801) March 11, 2018
Amazon paid for khloe kardashian's baby shower? Really? Like she couldnt pay for it herself?

— Rachael T. (@yunggordita510) March 11, 2018
Khloe Kardashian's baby shower was sponsored by amazon. Wow that unborn child just made more money than I'll see in my entire life

— david (@davidismediocre) March 11, 2018
kanye bought kim amazon stock...khloe had her baby shower all at amazon...keep the money in the family...

— colin (@colinags) March 11, 2018
I guess I just don't understand the idea of amazon gifting a baby shower to khloe kardashian. A family that can afford anything for that kid is given a free shower? When there are moms that can even afford formula that you could give to? Idk

— @Kali (@KaliNichole95) March 11, 2018
Khloe Kardashian's baby shower was sponsored by Amazon and I couldn't even get anyone to sponsor me for the Readathon

— Jack Marshall (@IsMiseJack) March 11, 2018
Khloe Kardashians baby shower was sponsored by amazon are you having a laugh

— amy (@amyelizabethlaw) March 11, 2018
Amazon really is gonna take over the world they sponsored khloe kardashian's freakin baby shower

— Kathryn (@kbmcgonagle) March 11, 2018
Is there anything the Kardashians won't make money out of? Apparently not…