Kendall Jenner Cleared Up Whether She's Gay Or Trans And Offended A Load Of People
15 March 2018, 15:20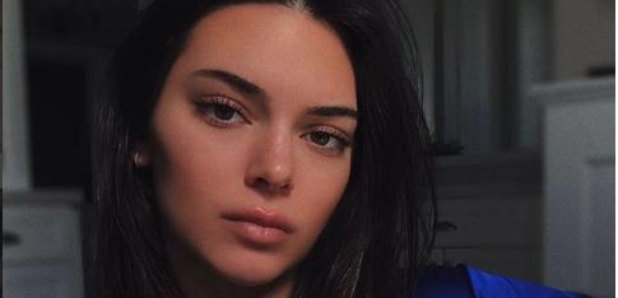 Her comments for Vogue upset some people.
Kendall Jenner's spoken out about her sexuality but her comments have left some people upset that she might have been insensitive.
The model opened up about rumours that she was gay in a new chat with Vogue magazine after fans had speculated because she is so secretive about her relationships.
Kendall explained why people assumed she was gay to Vogue, "I think it's because I'm not like all my other sisters, who are like, 'Here's me and my boyfriend!' So it was a thing for a minute because no one ever saw me with a guy. I would always go that extra mile to be low-key with guys, sneaking around all the time. You don't want to, like, look crazy.
"I don't think I have a bisexual or gay bone in my body, but I don't know! Who knows?! I'm all down for experience - not against it whatsoever - but I've never been there before.
"Also, I know I have kind of a… male energy? But I don't want to say that wrong, because I'm not transgender or anything. But I have a tough energy. I move differently. But to answer your question: I'm not gay. I have literally nothing to hide. I would never hide something like that."
However, Kendall's comments about not having a "bisexual or gay bone in her body" have rubbed some people up the wrong way with fans taking to Twitter:
kendall jenner said "i don't have a gay or bisexual bone in my body" ........... so THAT'S why she's so boring!

— (@alayarochelle) March 14, 2018
Listen I don't care if Kendall Jenner said she's not gay in her Vogue interview, Kris Jenner has six children you cannot convince me that they're all straight

— Gab (@gab_deangelis) March 14, 2018
cant believe kendall gender just came out as straight shes so brave

— gary from teen mom (@garyfromteenmom) March 14, 2018
it's not brave for someone to come out as straight. you're not at a higher risk of being harassed or put in danger because your sexuality is accepted by all of society.

stop saying that kendall jenner is brave for coming out as straight. she's really not. sorry not sorry.

— (@melissaagori) March 14, 2018
in 10 years people are going to ask you where you were and what you were doing when kendall jenner came out as straight and i think that's really beautiful

— jake (@HUNTYCHAN) March 14, 2018
omg kendall jenner is straight!?!?? can you say "icon"? she's so brave I can't

— Zachary Fox (@zackfox) March 14, 2018
"Comes out as straight" wow must be so hard. Stay strong kendall we all stand with you. pic.twitter.com/UhMmKWO5A4

— ak (@lutaokris) March 14, 2018
i still can't believe kendall jenner came out as straight today. I hope she's getting all her family and friend's support in a time like this. She's so brave

— ًmira (@medicnehs) March 15, 2018
Here's hoping that's cleared up the rumours at least for now.