Katie Price's Latest Plan To Finally End Her Feud With Chris Hughes Is All Getting A Bit Serious
30 October 2017, 12:47 | Updated: 4 December 2017, 11:10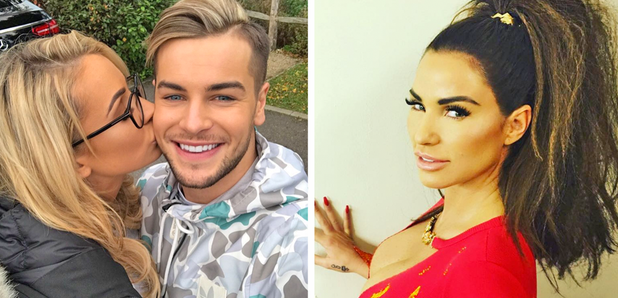 'They've only got two-and-a-half minutes left of fame'
In the never-ending saga that is Katie Price vs Chris Hughes, it seemed as though we'd reached a stalemate. Chris had leaked Katie's messages and Katie claimed to have the unedited versions but wasn't going to relese them.
However, now the model has decided to take things to the next level and has revealed that she's actually issued Chris with legal papers
> One Love Island Couple Is Offering A £25,000 Reward After Their Sex Tape Was Stolen
Discussing Chris & girlfriend Olivia in an interview with Fabulous recently, Katie explained, 'He's been given legal letters, but what I will say is they are not well-liked on the circuit. And of their five minutes of fame, they've got about two-and-a-half minutes left.'
In a previous interview talking about the contents of the unseen messages from Chris with OK! Magazine, Katie claimed "He's slagging Olivia off and everything. For someone who has only had five minutes of fame and has only got two and a half minutes left, they should pipe down."
She continued, "All I know is someone who's parading around about mental health and he's trying to make out I'm mad, saying that he hasn't sent me messages, it's like pot-kettle. That's exactly what he's doing - trying to make me feel mental that I'm making the whole thing up when I'm so not."
Chris' girlfriend Olivia also spoke to the publication about the situation and revealed that she never once doubted that Chris was being completely honest about the text message drama.
She explained, "Me and Chris are strong. We trust each other completely. I've never been with a guy who I can trust and rely on like I can Chris. There was never a part of me that doubted him."
Sounds like Katie's legal claims may put an end to all the back and forth drama, but as Chris claims to have gone to Snapchat to prove his innocence, we're still gonna keep an eye on this one.
> Download Our Fancy New App To Keep Up To Date With All The Latest Katie vs Chris Action!
Whilst you're here, check out what Lethal Bizzle had to say about Chris & kem using his 'Leave It' phrase...