WATCH: Jim Carrey Has Given The Most Bizarre Interview Ever & People Aren't Sure How To Feel
11 September 2017, 12:02 | Updated: 4 December 2017, 11:10
"I wanted to find the most meaningless thing I could come to and join, and here I am."
He's made headlines for his hilarious roles in films like 'Dumb & Dumber', 'Bruce Almighty' and 'The Mask', but after a recent interview with E!, the legendary actor has been making headlines for a very different reason.
Whilst on the red carpet at a New York Fashion Week event, Jim stopped off for a quick chat with Catt Sadler, but his curious responses to questions have seen the interview go viral.
> Just Loads Of Your Favourite Male Stars With Huge, Hunky Beards. What More D'ya Want?
Jim was attending Harper's Bazaar's party celebrating Icons by Carine Roitfeld and many of the questions he faced were based on icons, but according to the famed funny-man, he doesn't believe in icons.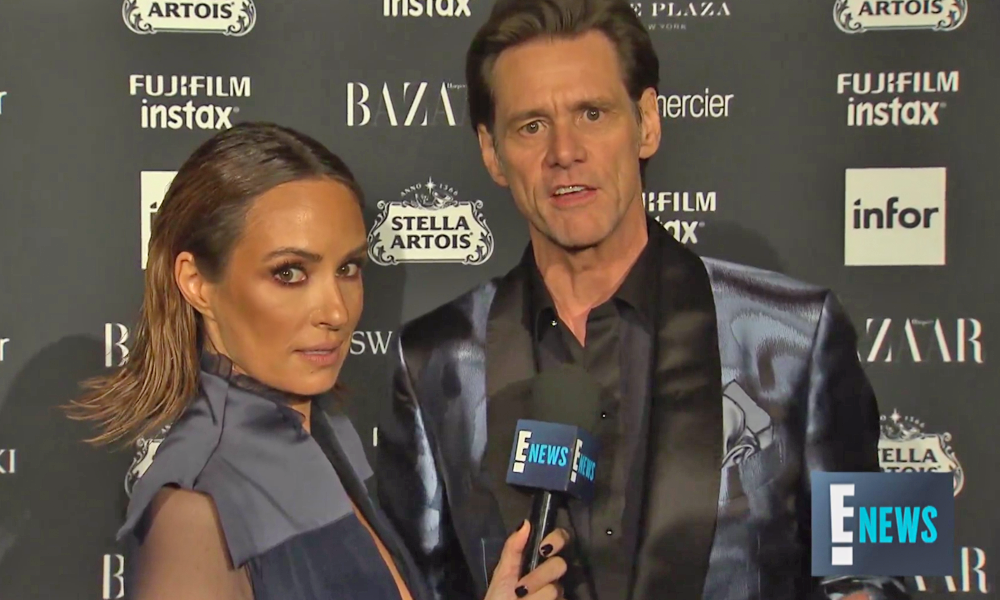 (Picture: E! News)
He went on to say, "I don't believe in personalities. I believe that peace lies beyond personalities, beyond invention and disguise, beyond the red 'S' you wear on your chest, that makes bullets bounce off."
There were plenty of other super quotable lines from the star and he even dropped in some James Brown ad-libs mid interview too, much to the surprise of everyone around.
People's reaction to the interview have been very mixed, with many claiming that Jim is 'woke' whilst others are worried about his unusual outbursts.
Jims next level with his truth bombs about the industry. https://t.co/gC8YAA5dpm

— Dustin Genereux (@DustinGenereux) September 10, 2017
this is the most important interview i have ever seen. jim carrey be knowing. https://t.co/bvMrqPbSOf

— maverick (@deleteian) September 10, 2017
Gotta give props to @IAmCattSadler for handling that Jim Carrey interview as best as humanly possible. Holy crap. https://t.co/zbTeaG8yuF

— Loren Raye (@lorenraye) September 10, 2017
imagine being so far up jim carrey's ass you thought that interview was funny or intelligent

— bethany (@chandIermonica) September 10, 2017
Check out the full video below and make up your own mind about this latest interview from the big screen legend...
Whilst you're here, check out the story fellow comedy legend Jamie Foxx told us about Ed Sheeran when he joined us in the studio...
Download the Capital app now for more of the latest celeb chat and all the biggest hit music too!