Steph Davis Thinks Jeremy McConnell Is Trying To 'Wind Her Up' As His New Girlfriend Is Revealed
8 September 2017, 15:44 | Updated: 4 December 2017, 11:10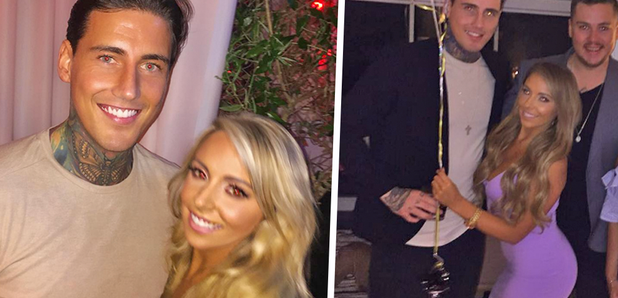 Apparently she hit the roof when the new love interest was unveiled...
Following Jeremy McConnell's conviction for assaulting Stephanie Davis, he was ordered to refrain from contacting his ex girlfriend.
But with the power of social media, the pair are highly likely to see news about each other at some point and the news of Jez's latest love interest has reportedly already reached and really annoyed Steph.
> Steph Davis Hits Back At Troll That Says She Should Be Partying Not On Holiday With Her Son
Steph is allegedly furious that Jeremy is showing off his romance with make up artist Mandi Flood on social media and she's taken it as a personal insult.
When Steph and Jeremy briefly split earlier this year, it was claimed that Jez and Mandi were regularly meeting up and now it seems that things are moving forward once again.
Speaking to The Sun, sources close to Steph claimed, "Steph hit the roof when she saw the pictures of Mandi and Jeremy together. They've known each other for years and although they have hooked up in the past, it was nothing serious."
"Steph asked Jeremy to cut all contact with her when they were together. Jeremy did it for an easy life, but now he's single again he's met up with Mandi and is letting his hair down."
They went on to add, "Steph thinks it's a dig at her and has taken it really personally. She thinks Jeremy is trying to wind her up."
With Jeremy seemingly moving on, Steph then took to Instagram and shared a revealing post of herself in a bath robe, with many people claiming she's showing Jeremy 'just what he lost'...
Whilst you're here, check out what Gemma Collins had to say to us about her new found online fame...
Download the Capital app now for all the latest celeb chat and check out the biggest music hits whilst you're on there too!