WATCH: Jack Black Yells "I'm Gonna Cream Your Face, Baby" To Dave Berry... Of Course!
He's wrote the greatest and best song in the world... Tribute. He's won a rock competition with a bunch of small kids. But how will the 'Goosebumps' star do in a game of Pie Face?!
Actor-comedian Jack Black is used to his fair share of tense and dangerous situations; he's become the Kung Fu Warrior while eating all of the noodles he can find; he's escaped the clutches of a 25 foot tall gorilla, and he's fought off an army of possessed gnomes in his upcoming film 'Goosebumps'.
But none of those have got a touch on how lethal Dave can be in a game of Celebrity Pie Face. You know things were getting serious as he flung his shades to the side. He wanted to see the fear in Mr Berry's eyes.
Dave gave Jack a few questions on his latest release... Which he smashed with no effort at all. He even managed to wiggle those eyebrows in the smuggest of fashions as he knew the answers. (We've never seen Dave sweat so much in his life!)
But before he could finish his evil laugh - which we want as a ringtone, by the way - Dave caught Jack out with a trick question... Or so he thought, anyway, right before he got a face full of pie.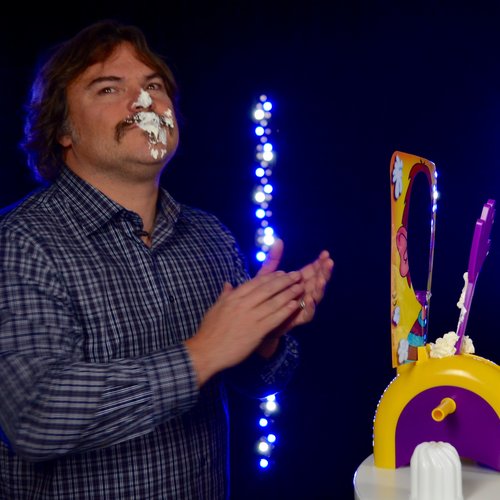 But in true legendary style, Mr Black flung some of the cream straight into his face... And even risked ruining that moustache. #Hero.
You May Also Like...