'I'm A Celebrity' Preparations Sent Into Chaos As Producers Stumble On A Huge Snake Living In The Camp
13 November 2017, 12:36 | Updated: 4 December 2017, 11:10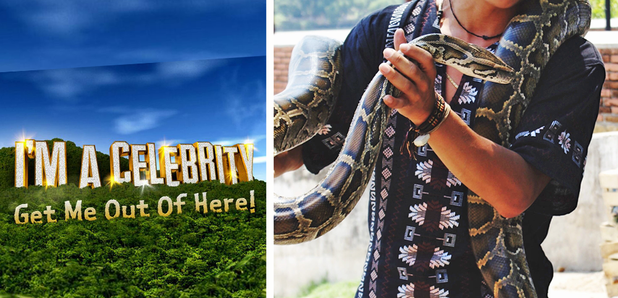 According to experts, the current weather in Australia means there are an unusual amount of snakes about!
The last thing producers of 'I'm A Celebrity...Get Me Out Of Here' want is for one of the celebs to be bitten by a snake or any other wild animal whilst they're in the camp.
However, whilst preparing for the show's launch night on Sunday 19th November, Executive Producer Richard Cowles stumbled across a huge 5-foot-long Python.
> Could A Giant Cyclone Threaten The 'I'm A Celeb Camp' Too?
Thankfully for the celebs who are set to embark on a nice little stay in the Australian jungle later this week, the species of snake found (Carpet Python) are not poisonous, although they can still pose a risk.
Speaking to the Mirror, one expert revealed, "The unseasonably cold weather has brought the snakes out as they try and find somewhere warm. This will be an ongoing problem this year, which is not good news for the celebrities."
"Medic Bob and the team will have to be on the lookout for anything dangerous as a snakebite can easily prove fatal if not treated quickly."
But it's not just snakes that could cause the show's producers and medical team headaches this year.
The unseasonably wet weather has the potential to encourage spiders and other animals to seek solace in the celebrity camp and one arachnologist told the Daily Star how worrying this could be.
"In the past we've had early rain and nothing. Just really dry summers. But this summer, the rain is allowing the whole system to crank up again. People should check everywhere."
"If you pick up your towel, the next thing you know you could have a huntsman on your face. A lot of spiders are pretty harmless, but redbacks are of particular concern."
The likes of boxer Amir Khan, Made In Chelsea star Georgia Toffolo and our good friend Jack Maynard are beings strongly linked with a trip to the jungle this year, so we'll be keeping our eyes peeled for them all on launch night.
> Download Our Fancy New App To Keep Up To Date With All The Latest 'I'm A Celeb' Chat!
Whilst you're here, remind yourself of Gemma Collins' jungle fears...