There Was A Mistake We All Missed During The First 'I'm A Celeb' Trial & Now We Don't Know What To Think
22 November 2017, 17:39 | Updated: 4 December 2017, 11:10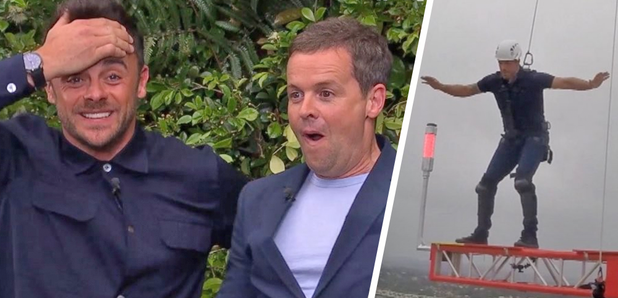 If you blinked you would've missed it.
When it comes to 'I'm A Celeb' trials, we all know they're pretty challenging - or at least that's what we thought!
Eagle eyed viewer Tom Smith has now made us think differently as he shared a surprising moment that aired during the very first trial on the opening episode of the new series.
> The Real Reason The 'I'm A Celeb' Camp Stays Dry Is Revealed As Viewers Claim Rain Is Fake
As the celebrities made their way to the top of a HUGE building on the Gold Coast in Australia, they were faced with the challenge of walking along a plank off the edge of the roof.
But as you'll notice, down in the bottom left corner of Tom's screen, you can see a woman who appears to be a lot taller than she should be, given that the celebs are supposed to be several hunderd feet up in the air.
Alongside his pic, Tom wrote, 'Bottom left that woman's rather large considering she's 320 plus foot lower than the celebs!!!' and now we really don't know what to think!
How can that woman be so big when she should be the size of an ant in that picture? What is going on?!
Whilst many people are now questioning whether the trial was real, one person responded with some sort of sense, writing, "It's to do with focal length of the lens used from the helicopter, if it was fake this programme wouldn't still be going after more than 10 years."
Another user who was actually in attendance also added, "This particular scene was definitely not fake. I work in a high rise next to it where we watched the set be built and the entire filming take place. It was filmed on top of a building called focus in the Gold Coast".
So we can rest assured, it's just camera trickery and the trials are very, very real! Phew.
> Download Our Awesome New App For All The Latest 'I'm A Celeb' News!
Whilst you're here, check out Ant & Dec dropping and old skool Byker Grover reference into the show...