This Growing Ikea Fashion Trend's Getting Out Of Control & Totally Splitting Opinions
12 May 2017, 13:35 | Updated: 4 December 2017, 11:10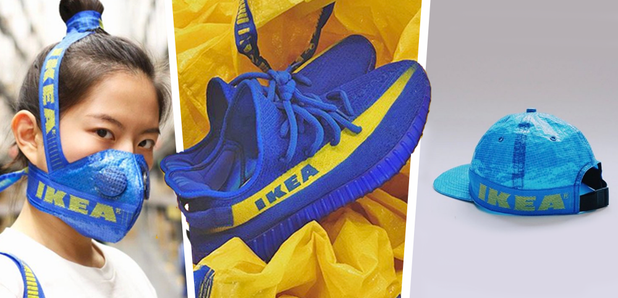 Where will the madness end?!
We all know and love Ikea. Their flatpack furniture brilliance changed the game for everyone looking for affordable and quick to assemble furniture. But we never expected them to be the inspiration behind one of the biggest clothing trends of the year.
Yes, the famous Ikea blue and yellow Kvarta bag has carried people's items for years but throughout 2017, people have been turning it into some of the most talked about clothing pieces of the year.
It all began when Balenciaga released their own version of Ikea's iconic bag with a hefty price tag of $2144.01...
IKEA response to Balenciaga's $2,145 rendition of their $0.90 bag is too much pic.twitter.com/mjtOSeLbRj

— Tweet Like A Girl (@FemaleKnows) May 3, 2017
But shortly after that bag was shared online, creatives across the globe jumped onto the Ikea hype and created one of the fastest moving trends for a long time.
From shoes and caps to thongs, check out some of the most standout designs so far...
1. Yeezys...
IKEA x adidas Yeezy Boost 350 V2 Custom via @MACHE275 pic.twitter.com/InnzeH5rbd

— SneakerBlazed™ (@SneakerBlazed) May 12, 2017
2. T shirts...
ABSTRAX® #Vortekea x Ikea
Exclusive Never Release Edition @Ikea_Malaysia pic.twitter.com/tpIFyxENP6

— ABSTRAX® (@IAMABSTRAX) May 12, 2017
3. Tracksuits...
Norwood Chapters reworks IKEA's FRAKTA bag into a full bootleg hoodie/pants collection. pic.twitter.com/wWJRK5lJ39

— PILASACI (@pilasaci) May 11, 2017
4. Caps, boots and face masks...
Back in my day, we used IKEA bags to hold stuff. pic.twitter.com/QZ5KPw46Nq

— Norm Kelly (@norm) May 10, 2017
5. Thongs, sandals and womens' tops...
After Balenciaga's copy of the IKEA Frakta bag, people seem to realize the value of the bag pic.twitter.com/FdIyfzwbzN

— you is jealous (@youisjealous) May 8, 2017
6. Nike Air Max
Nikes next collab? #nike #vapormax #ikea #ikeamax pic.twitter.com/eoRJMcRZMq

— The Heat Seekr (@theheatseekruk) May 7, 2017
7. Overalls...
Hey @IKEAUSA I would like to do A #FASHUN COLLAB with you. It's time the world got #LENKLEWK #IKEA TOTES OVERALLS RIGHT?! pic.twitter.com/ZJAX5NAdfZ

— Tom Lenk (@tomlenk) March 23, 2017
Things have escalated pretty quickly and the whole idea of turning the Kvarta bag into other items shows no signs of slowing down. However, we're not convinced we ever wanted or needed a pair of Ikea trainers tbh, so we'll just leave those there.
But what do you make of this whole new Ikea trend then? Would you cop or nah?
You may also like...