#HurtBae's Relationship Was 100% Legit & This Photo Is All The Proof You Need
16 February 2017, 16:41 | Updated: 4 December 2017, 11:10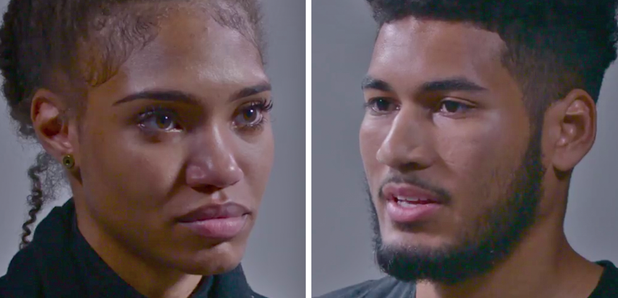 Yes, we can prove that Kourtney and Leonard are definitely not actors!
When the emotional video of Kourtney Jorge and Leonard Long III discussing his cheating and the breakdown of their relationship emerged online, it went viral instantly.
The initial tweet which contained the video gained over 100,000 retweets in just over 12 hours and the term #HurtBae was created to describe Kourtney, who most people felt hugely sympathetic towards.
Incase you missed it, click the link above to watch the whole thing in full.
While most people shared their sympathy with #HurtBae, there were some people who felt that the whole thing was fake and that both Kourtney and Leonard were actors pretending to have been in a relationship.
She's deffo an actor. #HurtBae video is fake I believe it now lol pic.twitter.com/yJDYlSXFgm

— (@LeKingCoq) February 16, 2017
Y'all know that cheating story is just acting right ? Besides that guy is an actor isn't he ? #Hurtbae

— QueenElisaBeth (@Elisa_Mashego) February 16, 2017
#HurtBae was scripted it's fake she's a actor Sum ain't right bout that.

— (@yrndree) February 16, 2017
So what if the whole #hurtbae thing was just an acting and that dude looked indifferent bc he is a bad actor

— komui (@bittersoulxii) February 16, 2017
Well we can tell you that the pair are definitely not actors and that they were 100% in a REAL relationship as far back as 2015 and we have the photo to prove it.
Captioning the pic with 'Spelhouse going strong, thanks for bringing my lunch when I forget' and tagging Leonard in the post, Kourtney can clearly be seen posing alongside Leonard and she even added heart emojis too.
Leonard states in the video, "We met in college, we met in class and you [Kourtney] really didn't like me. A couple years later we moved into like the same apartment complex and the first day we both moved there we met on the elevator and it was like a reunion", before later adding "I would say you were my best friend".

Kourtney posted the picture onto her Facebook page back in October 2015, so whether it was taken when the pair were in a romanctic relationship or when they were BFFs we're not sure, but as you can clearly see these two are not just random actors trying to make us go through a rollercoaster of emotion.
Still doesn't make us cry any less every time we watch the video though. If anything we've been sobbing more since finding this snap!

You may also like...