"Thought She Loved Her Curves?": Fans Slam Gemma Collins For Photoshopping Herself Thinner In A Picture
29 November 2017, 14:40 | Updated: 4 December 2017, 11:10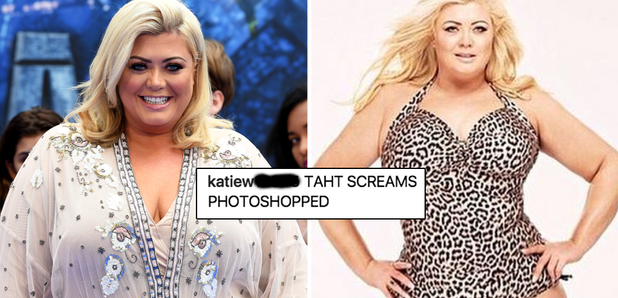 "TAHT SCREAMS PHOTOSHOPPED"
Gemma Collins is bae. From her outrageous outfit choices to her love of memays, the TOWIE star is comic gold.
On Monday, the reality star released some saucy pictures and promo video from her new plus size campaign with Boohoo Curve and we all loved it.
Even though these posts received all the love, one post shared by the TOWIE star on Sunday dressed in a leopard print swimsuit has been accused of being "overly photoshopped."
Accusing Gemma of going against every body positivity message she stands for, one fan wrote: "For someone advocating to love your own skin and body etc, it's a real shame you've succumbed to the pressure and been overly photoshopped! Nevertheless you look great, but looking like a "real" woman would have been a better advert x"
Another two quipped: "THAT SCREAMS PHOTOSHOPPED" and "airbrushed to infinity and beyond."
Thankfully not everyone was negative about the pic and some fans thought she looked ah-mazing.
Jumping to her defence, one person wrote: "Everyone gets photoshopped whether a size 8 or 22, it's just how the fashion/glamour industry works!" while another added: "DAMN Gemma.... don't hurt em!!!!"
Either way we think Gemma looks incred.
> Watch Gemma Collins spill the beans on collabing with Adele and memays.