Gaz Beadle Has Revealed What He's Doing In Australia & It's Actually Gonna Be Amazing
27 March 2017, 14:15 | Updated: 4 December 2017, 11:10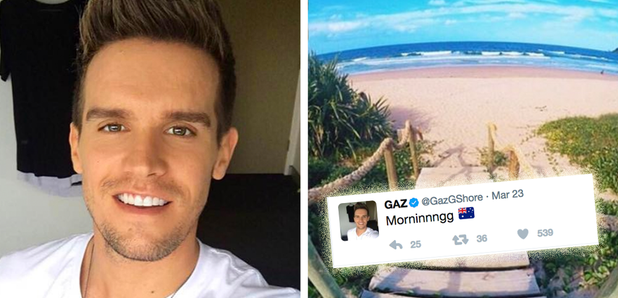 Lucky Aussies!
Whilst Gaz Beadle remains one of the most popular Geordie Shore cast members around, it seems he has his sights set on things much further afield than Tup Tup Palace.
Yes, Gaz popped all the way across the globe and visited Australia where he filmed a brand new show that is surely only going to increase his popularity with the southern hemisphere.
Rumours began circulating when Gaz posted a tweet informing everyone that he's going to be in Sydney for the next six weeks...
Touch down..

Sydney is home for the next 6 weeks

— GAZ (@GazGShore) March 9, 2017
People guessed that Gaz was there to film Geordie Shore or even play golf, but it was something brand new that brought him to Oz.
Gaz is actually set to star in the brand new series of Hell's Kitchen in Australia! We know...we thought it was kinda random too.
He will appear on the show alongside a host of Australian stars including The Real Housewives Of Melbourne star Pettifleur Berrenger and The Chase Australia star Issa Schultz. They will be guided and challenged (shouted at) by top British chef Marco Pierre White.
Announcing your celebrity contestants for HELL's KITCHEN AUSTRALIA! (1/2) pic.twitter.com/lBDMY0U0ro

— Channel 7 (@Channel7) March 24, 2017
In a recent interview, Marco Pierre White admitted he doesn't know who any of the contestants are, saying, "I'm there to do a job. I'm not there to make friends, which I told them. I'm there to bring the best out of them, to make them want to push themselves to want to do better."
March 24, 2017
Gaz has previously talked about going to live in Australia and so appearing on the Aussie show could be the first step in any potential move abroad in the near future.
Early finish today in the kitchen... Bondi food then cheeky 9
Holes ohhh I love oz

— GAZ (@GazGShore) March 27, 2017
If we're going to be seeing the same Gaz in Hell's Kitchen who we've grown to love on Geordie Shore, then we don't know how he's gonna cope - we don't think your expertise on Super Noodles is gonna help you out in Hell sadly Gaz!
This is the first time Hell's Kitchen has ever aired in Australia, so Gaz actually has the chance to make history as the show's first ever winner. Can he actually do it and bring the crown home to Newcastle!?
We're backing him all the way!
Hell's Kitchen Australia Full Line Up
Lincoln Lewis - TV star from 'House Husbands'
Debra Lawrance - TV star from 'Please Like Me'
Sam Frost, radio host - TV star from 'The Bachelor'
David Oldfield - former Politician
Candice Falzon - Ironwoman
Jess Fox - Olympian
Willie Mason - former NRL player
Pettifleur Berrenger - TV star from 'The Real Housewives of Melbourne'
Issa Schultz - TV star from 'The Chase'
Gary 'Gaz' Beadle - TV star from 'Geordie Shore'
You may also like...