WATCH: Emma Watson Cringing At Herself In This Amazing Harry Potter Outtake Is Hilarious
8 March 2017, 15:58 | Updated: 4 December 2017, 11:10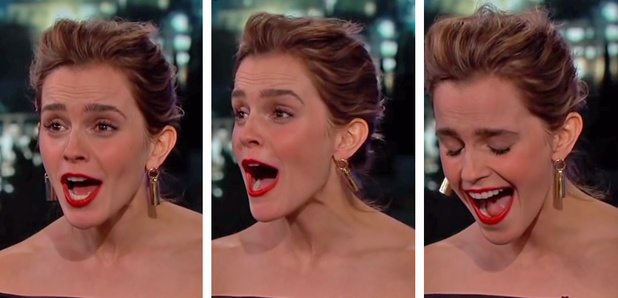 She couldn't be more Hermione if she tried tbh.
Yeah, we know Emma Watson played Hermione Granger in the Harry Potter films and she was super awesome.
But did you also know that she tried to play Harry and Ron too!?
Well in an outtake from the very first film, Harry Potter and the Philosopher's Stone, that is exactly what happens and it's hilarious.
Emma was on Jimmy Kimmel Live promoting her brand new film Beauty & The Beast, but Jimmy couldn't help but ask her about that debut role that turned her into a world famous star.
It seemed like Emma hadn't seen the outtake for a long time and her reaction was priceless. Explaining exactly what was going on at the time, Emma revealed, "You laugh, this is actually quite traumatic for me because I created issues because of this."
"Yes, I would ruin takes. [Director] Chris [Columbus] would be like, 'Cut. Emma, you're doing it again. You're mouthing Dan's lines,' and I'd be like, 'Oo I'm so sorry, so sorry. Oh, I feel so bad.' But I couldn't help myself."
Well either way, we thought it was amazing Emma! Never change.
You may also like...