"That's All Our Bars" - Chris & Kem Hit Out At Marcel & Reveal Their Love Island Bromance Is Over
5 October 2017, 15:52 | Updated: 4 December 2017, 11:10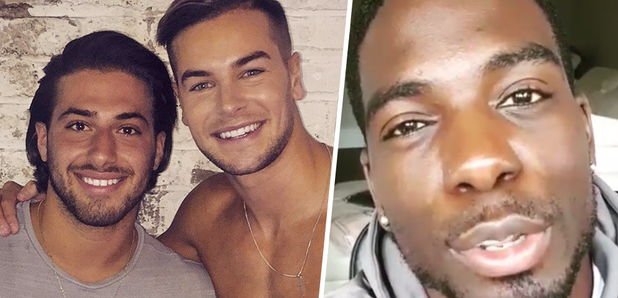 The Love Island honeymoon is well and truly over.
After leaving the Love Island villa, Chris and Kem's lives have gone from 0-100 real quick.
Having released their debut single 'Little Bit Leave It' recently, the duo have been hit by a claim from Grime star Lethal Bizzle who believes he deserves credit from the duo as he originally coined the phrase 'Leave It'.
> "Stop Sending Threatening Voice Notes" - Chris Hughes Ends Katie Price Feud With One Savage Message
But Bizzle isn't the only one who feels they deserve part of the credit for the single, which shot straight to the top of the iTunes chart after only being available for 2 hours - the duo's Love Island companion Marcel Somerville had something to say about his involvement too!
In a little tweet and delete situation, Marcel appeared to call out the lads on Twitter and fans accused him of throwing ALL the shade when he tweeted, "@KemCetinay @chrishughes_22 boys the tune sounds sick!!! I hope u did the right thing with the chorus & the bars I wrote. #LittleBitLeaveIt"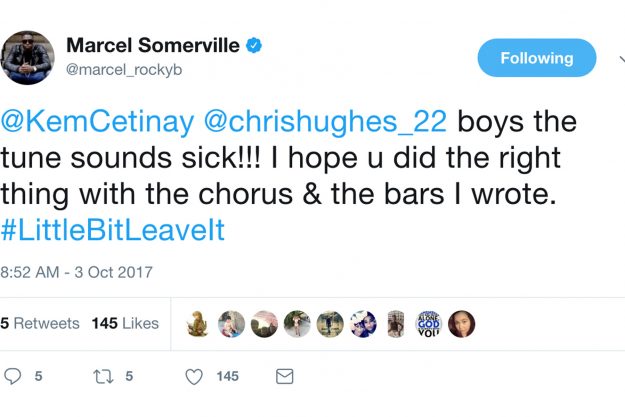 As mentioned, Marcel went on to delete the tweet, but not before liking a couple of replies from fans who agreed that he deserved some credit for helping create the track.
Well Chris & Kem have now hit back at their former castmate and they weren't happy at all! When we asked them about Marcel's tweets, Kem revealed "I went to see it but he deleted it. It was on an article so I read it and I dunno."
"If anyone's got any input into it then it's the people who were in the studio that wrote it. Let's be honest, we came out of the villa, we made the programme [Straight Outta Love Island] and 'Littlle Bit Leave It'; it wasn't like Marcel created it. But we're hoping that's just banter."
Chris then added, "The hook was always gonna be 'Little bit leave it', then when we put something in there that's all our bars we've come up with over the last few weeks and we wrote with Owen," before adding, "that song was written completely fresh."
"I saw an interview where Marcel said he worked for a PR company and he deserves royalties from it [Little Bit Leave It] and stuff," Kem chimed in. "[With] stuff like that I dunno why people come at us. I don't even know what half the words mean, I'm just like 'yeah alright then'."
"But whatever, let them keep saying it innit. We're just concentrating on the tune and just thanking everyone for supporting it."
Chris then went on to compare everyone wanting a credit for their song to a pizza, explaining, "If this [Little Bit Leave It] was a pizza we'd be having a bit of pepperoni and that's it. We ain't even got to the crust or the tomato puree or nothing."
Kem then joked, "Honestly, if it keeps going this way half of the country's gonna have cuts in our song. Half of the viewers from Love Island are gonna want a cut aswell."
But have the guys actually picked up the phone or slid into the DMs to speak to Marcel about the whole thing?
According to Chris they haven't and he also revealed that the duo don't speak to any of the other islanders either! When asked whether he or Kem had spoken to Marcel, Chris said, "Nah nah nah, we don't really talk much anyway to anyone else."
"You link up when you maybe tweet each other or you comment on an Instagram photo, but that's the only time when you really kinda link. That's the same with anyone off the island cos I only speak to Kem and Amber."
With the guys having had such a great relationship with Marcel during their time in the villa, we're hoping this can all blow over and everyone can be pals again!
We'll keep our fingers crossed.
> There's Even More Juicy Love Island Chat Over Here On Our App - Don't Miss Out!
Whilst you're here, check out what Love Island 2016's Cara De La Hoyde had to say about her split with Nathan Massey...