Fans Get Angry As Chris Clark Reunites With TOWIE Ex Just Days After Dumping Jesy Nelson
27 April 2017, 10:48 | Updated: 4 December 2017, 11:10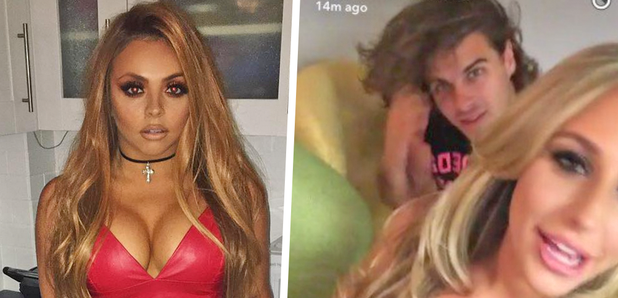 The Essex pair are reported to be 'officially dating' again following Chris' split from the Little Mix star...
They'd been dating since February this year, but two weeks ago reports emerged that TOWIE star Chris Clark had dumped his Little Mix GF Jesy Nelson via text message. The pair had appeared to be very close in the days leading up to the split and had even become Instagram official.
However it seems that Chris still had feelings for his ex and fellow TOWIE star Amber Dowding, so ended things with Jesy and now the news has come out that Chris and Amber are once again dating.
Amber had recently been in hospital with a mystery illness and speaking out about the situation, Chris said, "I think these past weeks make me realise that I thought I was over her, I did think that. And maybe I'm not so sure any more."
"I am now single and I see Amber ... I see her at the hospital. She was quite ill. So I messaged her on Twitter and just said 'I didn't like seeing you lie that. I hope you get better'. Despite what's gone on, her being in my life makes me happier. That's the bottom line. (sic)"
"I feel like if I kept putting that to the back of my head, two or three years down the line if she didn't find anyone else I would regret not doing stuff like this."
A source close to the situation told a tabloid, "Chris and Amber are boyfriend and girlfriend again," a source said. "It's been a long time coming but they've decided to give things another go. Meanwhile Jesy has been left broken-hearted after having to deal with another very public break-up."
Fans aren't to happy about Chris' behaviour either, with him getting back with his ex so quickly after ending things with Jesy...
Chris Clark would do anything to boost his profile. Imagine dumping your girlfriend for more airtime on #TOWIE. So seedy.

— Michelle Pryde △⃒⃘ (@michellepryde) April 26, 2017
Not at all happy with the way @ChrisJClark_ used Jesy Nelson #TOWIE

— Grianne Doherty (@GrianneDoherty7) April 26, 2017
Still can't get my head round the fact Chris Clark mugged Jesy Nelson off for Amber Dowding? ???

— Bec (@becmccluskey_) April 26, 2017
@ChrisJClark_ anything for a storyline #TOWIE

— Jack (@justaboymixer) April 26, 2017
Jesy Nelson ain't just people @ChrisJClark_ #TOWIE

— Grianne Doherty (@GrianneDoherty7) April 26, 2017
Jesy hasn't spoken out about Chris' new relationship status, but she's been enjoying some time with her Little Mix squad and having a few nights on the town, so we'd say she's pretty over it already.
You may also like...