Somehow We All Missed This X Rated Chloe Ferry Moment On CBB Last Night
20 January 2017, 15:44 | Updated: 4 December 2017, 11:10
Warning: This post contains explicit images.
So you watched Celebrity Big Brother last night, right?
You saw the whole Chloe performing a lapdance for Jedward and her awkward attempt to get up close and personal with Calum didn't you?
Well we can almost guarantee you missed this explicit moment that was right in front of your eyes.
Whilst Chloe was attempting to tash on with Calum, you may have noticed her wearing what appeared to be a delightful monochrome pyjama set.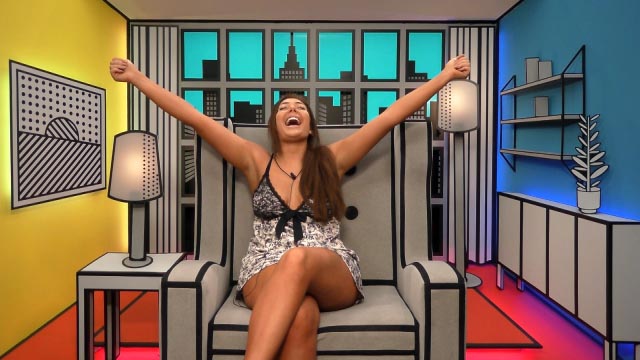 Picture: Channel 5
Well in actual fact, there's far more to that pyjama set than initially meets the eye.
Yes, Chloes outfit actually contains numerous images of naked people in very explicit situations and it turns out the neither viewers, nor CBB bosses actually noticed!
One person who purchased the very same outfit shared her surprise on Twitter when she realised that there were some adult activities printed on her nightwear...
Thought i brought the cutest little pj set from Ann Summers until i looked closer at the pattern pic.twitter.com/t6VOEXesYw

— intoxicated (@fxck_chrissy) September 22, 2015
We know that there is a warning at the beginning of every segment of CBB, but we're not sure this is what they meant when they said that there would be 'scenes involving adult and sexual themes'!
You may also like...