WATCH: Kim Kardashian's Surrogate Actually Appeared On KUWTK & They Absolutely Grilled Her!
6 March 2018, 17:59 | Updated: 6 March 2018, 18:10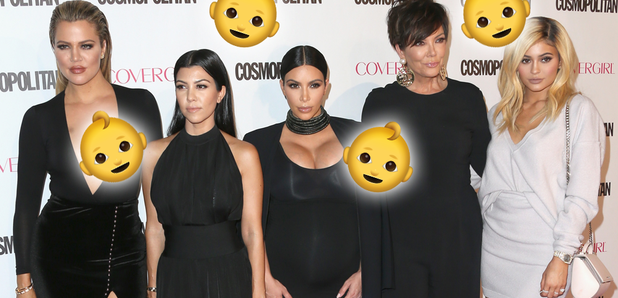 And exhaaaale. It's the information we have all been gasping for in order to resume our normal, functioning lives. Kimmy K has finally come clean about who carried baby Chi all this time and we are living for it.
After months of speculation, secrecy and a general starvation of our all-time favourite reality queens, the world has been enlightened on just what the hell has been going on with the Kardashian/Jenner offspring.
The final piece of the never-ending pregnancy puzzle was revealed on the series finale of Keeping Up With The Kardashians.
Kim introduced her surrogate to the entire family, who quickly bonded with Kylie and Khloe over their matching baby bumps and the trio discussed due dates.
Mixers, Camilizers, Mendes Army & More – You Need To Prove You're Capital's Best Fans 2018!
Khloe tells the surrogate that she and Kylie are three months apart, and Kylie only a month apart from when KKW's baby is due.
It was the first time Kylizzle acknowledged her pregnancy on the show and we gotta say, she looked absolutely glowing.
The family gave the surrogate (whose face we never get to actually see) a light/medium grilling about how she feels having to give up a baby she has carried.
The surrogate explained: ''I know from the very beginning this is not my baby. My joy and my satisfaction is whoever I'm having the baby for. So when the baby comes out […] I'm like, 'let her go to her mom.' ''
It was confession-filled episode as Khloe also revealed she was having a girl and took to Instagram to gush about her excitement for her little one to be BFF's with Chicago and Stormi.
Kim recently revealed that although she and the surrogate get on well, she didn't extent an invite to the baby shower she threw for Chicago to avoid confusion for her kids.
You're probably thinking what we are, confusing is the Kardashians middle name!
Truth tea time is over people, you may resume your daily activities. That is until the next family drama strikes, which by our calculations will be within the week.
Download Our App Now For All The Latest Kardashian News!
Whilst you're here do you remember the awk moment Khloe was grilled about Kylie's pregnancy on Ellen?