Logan Paul & Chloe Bennet Are Officially Dating After They Post Loved-Up Insta Stories
12 July 2018, 12:24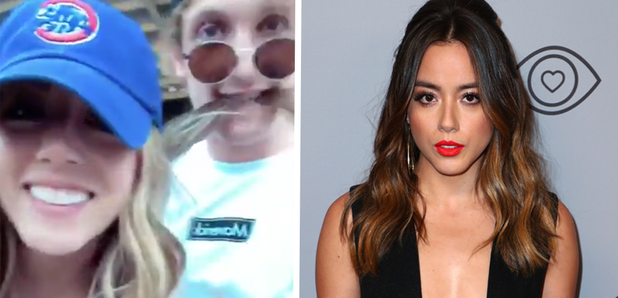 Ahead of his showdown with KSI, Logan Paul is heating things up outside of the ring with new beau Chloe Bennet.
Logan Paul is ready to fight KSI in what is destined to be the biggest fight in the history of YouTubers however that hasn't stopped him from taking some time out to concentrate on his love life, in particular American star Chloe Bennet.
> KSI & Logan Paul Are Set To Face Off At Their UK Press Conference
For those of you who haven't seen Marvel's 'Agents Of S.H.I.E.L.D', you may not be too familiar with Chloe Bennet. The 26 year old actress from Chicago has a huge following thanks to her starring role in the series where she's appeared in over 100 episodes.
The pair have appeared on one another's Instagram stories recently, fuelling rumours that they are indeed an official couple.
However, it was when Chloe was quizzed by a fan on Twitter that she decided to reply with exactly how she felt...
PIC: Twitter
hold on one second now. i haven't confirmed anything. but. if i had the chance to date this so called "Chloe" girl, i would be an extremely lucky young man

Agents of S.H.I.E.L.D. star Chloe Bennet confirms relationship with Logan Paul https://t.co/Wet9dlyoK5

— Logan Paul (@LoganPaul) July 12, 2018
In several videos posted by Logan, Chloe can be heard in the background playfully complaining at his lack of PDAs for her. She claims, "All I know is Justin Bieber has been dating Hailey Baldwin for a f**king month, and she gets a f**king ring and an Instagram post."
Of course, Logan's rival KSI has already had his say on the relationship with one simple tweet:
July 12, 2018