KSI Vs Logan Paul Fight: All The Details Inc. Dates, Tickets & More
22 August 2018, 11:01 | Updated: 25 August 2018, 23:31
KSI and Logan Paul are going head to head in a boxing match for the ages and fans everywhere are already getting hyped for what will be the biggest YouTube event of all time!
Where Can I Watch The KSI VS Logan Paul Fight?
The fight is set to be streamed live on YouTube, and you can watch it for £7.50.
Why Is KSI Fighting Logan Paul?
Following KSI's knockout victory over Joe Weller in his first boxing match at London's Copper Box back in January 2018, he called out Logan Paul, Jake Paul or any other Paul and that's what sparked the whole thing.
Initially it was Logan's brother Jake who appeared to be the favourite to step inside the ring with KSI, but his older bro soon stepped up and decided he was going to head into battle with the British star.
When Is The KSI Vs Logan Paul Fight?
There will actually be two KSI vs Logan Paul fights. The first will take place on 25th August 2018 in the UK, whilst the second fight is scheduled for February 2019 and will take place at an undecided venue in the US.
Whilst an official deal appears to have been signed by both parties, the pair are still arguing on Twitter about money. Pictures have been fluing around Twitter showing a signed contract and pictures of Logan and KSI in each other's faces.
YouTubers KSI and Logan Paul have now signed to fight each other on August 25th at Manchester Arena.

They've put together a two-fight deal and everything. Rematch in the US! pic.twitter.com/rUrX69XBvp

— Michael Benson (@MichaelBensonn) March 18, 2018
Where Will The KSI Vs Logan Paul Fight Be Held & What Is The Venue?
KSI had stated that his next fight will be taking place in England and that has proven to be true. The UK fight will be taking place on 25th August 2018 in the Manchester Arena - that's the same venue where the likes of Mike Tyson, Amir Khan and David Haye have all fought.
KSI had previously revealed that if the Logan Paul fight did go ahead then the pair would look to book a large venue with a capacity bigger than the 7,500 seats of East London's Copper Box, where he hosted his last bout against Joe Weller.
The U.S fight set for February 2019 has not had a venue allocated yet and it seems that both fighters have the option to pull out of that deal shortly after the UK date.
Logan and Jake Paul originally wanted any fight to take place in a neutral venue and would prefer Dubai, so it seems that the two fight deal was enough to convince them to go ahead and sign the contract.
How Can I Get KSI Vs Logan Paul Fight Tickets & How Much Will They Cost?
Given that it's the most highly anticipated live YouTube event of all time, intrest in going to watch the KSI Vs Logan Paul fight at the Manchester Arena is likely to be intense and tickets will be in high demand.
Prices for tickets range between £34 - £516 depending on where you sit and extra tickets have been added, including VIP packages!
How is @KSIOlajidebt selling tickets for a boxing match and charging Anthony Joshua prices mad ting #oncrack pic.twitter.com/VsUkm79gGA

— SANCHEZ JOY (@SanchezJoy90) June 21, 2018
How Much Money Will KSI & Logan Paul Make From Their Fight?
Whilst exact figures are not available just yet, it's likely that the pair will make millions from stepping into the ring. With sponsors sure to swarm over the fight in an attempt to cash in on the pair's popularity, we're expecting some serious cash to be made here.
Logan has already hit out at KSI and his manager Stuart Jones as they claimed to be splitting the money 50/50 with Logan, something which he denied, but KSI revealed the full contract in a fiery response which revealed exactly how the two deal fight would be split.
i'm dead bruh @KSIOlajidebt & his manager @StuartJones7 are actual clowns, lying to the internet pretending like they've agreed to 50/50 YOU IDIOTS YOU SENT THIS THIS MORNING DOES THIS LOOK LIKE 50/50 TO YOU y'all are embarrassing the UK, STOP DODGING pic.twitter.com/e07u3ZmdPv

— Logan Paul (@LoganPaul) March 15, 2018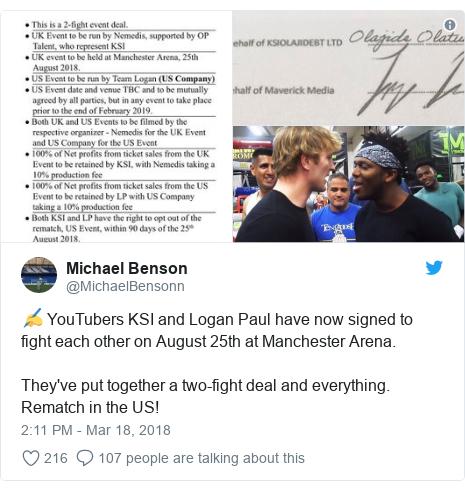 During a recent YouTube video in which Logan Paul reacted to a KSI video alongside his mum, the American vlogger even claimed that he was going to bet all of his money on beating KSI in the ring.
As well as that, he also claimed that he'd bet all of the money he'd win too, revealing just how confident he is. Speaking in the video below, Logan states, "I'm literally betting everything I've made in my entire life on me bro, even the winnings of the fight!".
How many rounds will the right be?
KSi and Logan will fight for a maximum of six rounds. If neither of the two are knocked out by the end of the sixth round, the bout will be decided by points.
Who Are the KSI Vs Logan Paul Fight Commentators?
Taking to Twitter recently, KSI revealed that there would be three commentators calling his fight against Logan Paul and they're all British YouTubers.
True Geordie had been in charge of the London press conference and he will be joined in the commentary booth by fellow YouTube stars Laurence McKenna and Joe Weller.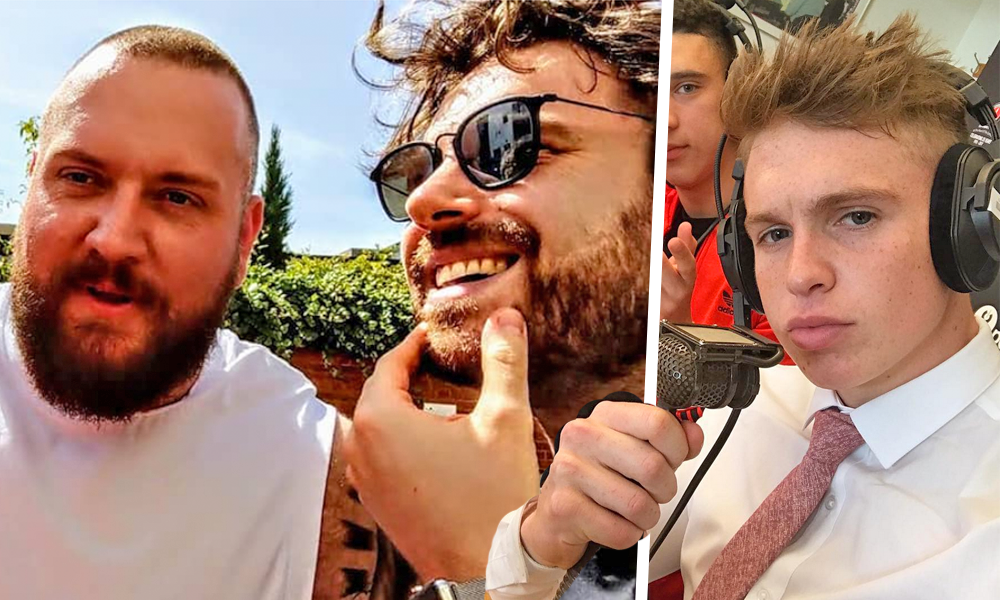 Pic: Instagram
KSI and Logan Paul have also got legendary ring announcer Michael Buffer involved with the fight and he'll be announcing both fighters entrances with his iconic phrase "Let's get ready to rumble!".
When Is The KSI vs Logan Paul Press Conference?
After an initial head to head in Los Angeles at their very first pre-fight press conference, KSI and Logan Paul are getting on stage to meet face to face once more, this time in historic Lonndon boxing venue York Hall.
The Bethnal Green haunt has been the scene of some of UK boxing's most legendary fights over the years, so it'll be a special venue to see both KSI and Logan discussing their thoughts on the fight.
The London press conference took place place on Wednesday 18th July 2018 and it all kicked off! After KSI spent the first 5 minutes roasting him, Logan left without answering a single question and the whole thing sparked a riot.
Check out out full coverage of the London press conference events
here
.
How Have KSI & Logan Paul Been Training?
Being two of the world's most famous YouTubers, you can be sure that both KSI and Logan Paul will be documentating every second of their training schedule leading up to the fight.
Logan has revealed that he's building a specific gaming room as he looks to do more streaming on Twitch whilst he relaxes his muscles after training by flipping tyres, whilst KSI has been in the gym with British UFC star Michael Bisping and also training with Chris Eubank Jr...
Will KSI's Brother Deji Fight Logan's Brother Jake Paul?
Both KSI and Logan Paul have younger brothers and there are strong calls for the pair of them to step into the ring against each other on the undercard of KSI & Logan's fight.
KSI's brother Deji has called Jake out in a number of YouTube videos and now Jake has finally responded and confirmed that he will indeed be fighting Deji!
The fight looks set to take place on the undercard of the KSI vs Logan fight in August and Jake has even suggested that the winners of the two fights should battle against each other in the ultimate showdown.
Will Logan Paul's Dad Fight KSI's Dad?
Logan's dad Greg Paul said he was happy to take on KSI in the aftermath of the initial call out, but that has since died down. However there has been talk of Greg Paul fighting KSI's dad Jide Olatunji and making the whole thing one big family affair.
We're not as convinced that these two will be getting in the ring sadly, so maybe mark this one down as a 'not gonna happen'.
Who Is Promoter For The KSI Vs Logan Paul Fight?
Whilst the contracts show that UK company Nemedis and American company Team Logan will retain profits from ticket sales etc, people have been asking about who will be promoting the fight.
It turns out UFC President Dana White was involved in putting the fight together and having built the biggest MMA brand in the world, he knows a thig or two about promoting fights. Dana White revealed his input to the fight in an interview recently...
What song will play whilst KSi walks walks to the ring?
When fighting Joe Weller, KSi walked to the ring whilst his own song 'Uncontrollable' feat. Big Zuu blasted out the speakers. We're unsure exactly what will play this time around however when chatting to KSi, he alluded to making new music for the event. Watch this space!
Who Is KSI?
KSI is a British YouTuber with 18 million subscribers. His real name is Olajide William "JJ" Olatunji and he's been making videos since 31st January 2010.
He's also turned his hand to music too, releasing several EPs and just missing out on the top 10 with his debut 'Keep Up'. He participated in his first ever boxing match against fellow YouTube Joe Weller earlier this year and won with a knockout victory.
Who Is Logan Paul?
Starting out as a Vine star, Logan moved over to YouTube on 13th November 2013. He's appeared in a number of American TV shows including Law & Order and has 20 million subscribers across his two YouTube channels.
Logan was thrust into the mainstream media spotlight after posting his now infamous 'Suicide Forest' video and has since faced huge public criticism and calls for him to delete his channel.
> Download Our Fancy New App For All The Latest News & Gossip From KSI vs Logan Paul!