Kylie Jenner Fans Think Her Pregnancy Was Accidentally Confirmed After This Episode Guide Got Deleted
1 February 2018, 14:15 | Updated: 1 February 2018, 14:23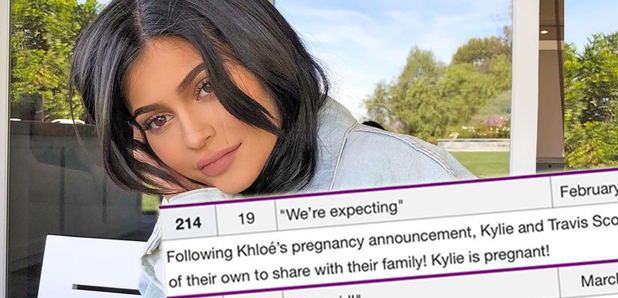 So the new KUWTK episodes are supposedly called 'We're Expecting' and 'It's A Girl'!
With Kylie Jenner's pregnancy being one of the hottest topics in the world for what seems like an eternity, people are looking for every little clue to either confirm or debunk the myth that Ky is indeed about to have a baby.
It seems as though 'Keeping Up With The Kardashians' may have just dropped the biggest hint yet and then tried to cover things up after the show's Wikipedia page was edited to reveal exactly when Kylie's much anticipated baby reveal would happen!
> Kylie Jenner's Not Hiring A Nanny For Her Baby And The Reason Makes Sense

The episode guide on the KUWTK Wikipedia page was edited to reveal that there is apparently an episode set to air on 25th February called 'We're Expecting' and another on 4th March entitled 'It's A Girl!'.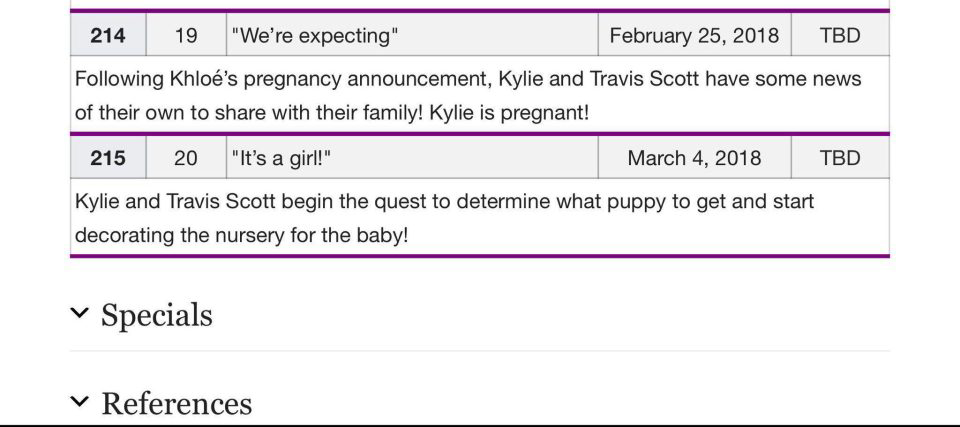 (Pic: Wikipedia)
The guide reveals that Kylie and the reported father of her baby Travis Scott broke the news to Kylie's family together and that they then decided to get a puppy before decorating their new arrival's nursery.
Fans of the show have been sharing screenshots of the reported episodes like wildfire, with many people convinced they're genuine upcoming episode descriptions rather than someone messing with us all.
The problem with Wikipedia is that anyone can edit a page and so we can't be sure exactly who it was, leaving us even more confused about this whole thing than we were in the first place!
So Wikipedia exposed Kylie's pregnancy on KUWTK then deleted it about an hour later pic.twitter.com/EiYYhUEnde

— $elfieŻ (@zaharaadesert) January 31, 2018
as much as i don't care if Kylie Jenner is pregnant or not, i do actually care and the season finale of KUWTK is called 'We're Expecting!' and Kylie and Travis have news for the family

— ali (@alipaterson97) January 31, 2018
Why do I care so much whether Kylie Jenner is pregnant or not like I'm 99.9% sure but I just need to see this "We're Expecting" episode just for the confirmation

— beth (@Girl_On_Fire_98) February 1, 2018
> Download Our Fancy New App For All The Latest On Kylie's Pregnancy!
Whilst you're here, check out what Khloe had to say about her sister being pregnant...