Kim Kardashian Drags Lindsay Lohan In Shady Instagram Battle
30 January 2018, 10:39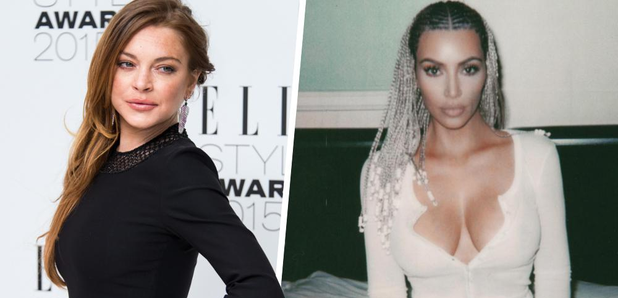 We're just gonna keep refreshing IG to watch this unfold.
We live for drama. What can we say? We're petty like that.
And there's nothing more dramatic than a feud between Kim Kardashian and Lindsay 'Mean Girl' Lohan, is there?
> Kim & Kanye Welcome Baby Girl Via Surrogacy As Kylie Rumours Increase
The 'Keeping Up With The Kardashians' superstar shared a photo of herself with a brand new style - braided hair.
If she thought her champagne pouring abilities were enough to "break the internet", this nearly shattered it into a thousand pieces, burnt them to a crisp, and blew the embers all over the shop.
After Perez Hilton shared a snap of the new hairstyle, debuted by Kim, Lindsay Lohan responded, simply saying "I am confused."
.@KimKardashian just responded to @LindsayLohan's comment on my photo of her new hair and I AM CRYING and squealing and gagging!!!!!!!! It feels like 2007 again!! pic.twitter.com/QncxBJJi9Q

— Perez (@ThePerezHilton) January 29, 2018
If you thought that wasn't awkward enough, Kim clapped back, with "you know what's confusing.....your sudden foreign accent [sic]".
We're just gonna take five minutes out to get some popcorn and watch this unfold.
> If You Want All The Tea, Head On Over To Our App Now!
Can we just take a moment to appreciate the 'KUWTK' house? 'Cause... SHEESH.