CBB Fan Favourites Spencer & Heidi Are Having A Baby & We Already Know The Due Date
12 April 2017, 16:23 | Updated: 4 December 2017, 11:10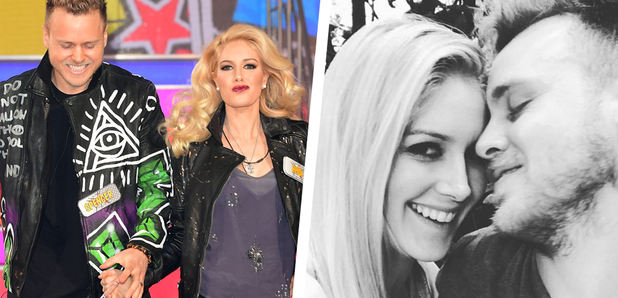 "It's just the click-click-click of the roller coaster going up. That's how I feel right now."
Yes, you read that right! Speidi are having a baby. Heidi and Spencer Pratt, the couple who won so many fans from their two appearances on Celebrity Big Brother, have announced their first child and it sounds like they couldn't be happier.
Speaking to US weekly, Heidi said, "I have never been more excited. The reality is sinking in that we are going to have a child! I've read every pregnancy book, and now I realise I don't know anything".
Heidi has previously spoken about wanting to have children but it seems that Spencer was the one holding the process up. After making the baby announcement, Heidi revealed, "I wanted a baby three years ago. Spencer was a little hesitant."
The pair burst onto the celeb scene as part of hit US show The Hills back in 2006. The show aired for six seasons and made stars out of the loveable pair. They came second on their first appearance in the CBB house a few years ago, after going head to head with eventual winner Rylan Clark-Neal on several occasions.
Their second appearance back in January was more positive, but they were eventually evicted in ninth place.
Discussing the moment Heidi told him the news, Spencer said, "[Heidi was] just standing there. The look on her face, I can't even describe it. She was literally glowing. I thought she was about to say she made muffins or banana bread. Heidi said, 'I'm pregnant'. I was like, 'Whoa, that's way more exciting than banana bread!'
"Heidi has wanted to be a mom since the day I met her. She has planned for and thought about this. It's just the click-click-click of the roller coaster going up. That's how I feel right now."
Whilst Spencer seemed pretty shocked at the news, Heidi revealed that she was the one who was most surprised at first! She explained, "It happened the first month. I was so shocked; Spencer wasn't. He was so sure it would happen right away. He was like, 'You're going to get pregnant the first time we try'."
Heidi is currently 12 weeks pregnant and has unveiled the due date when when we can expect the couple's child to be born - 19th October 2017. Heidi said that she's been experiencing morning sickness but is happy to put up with that knowing that she's starting her own family.
"I felt nauseous and I wanted to know, so I took a pregnancy test", she explained. "I've had really bad morning sickness since the beginning, but I've never been so happy to feel so sick! Every time I feel awful, I remember why and I'm just euphoric. It's so fulfilling, and I'm mostly just grateful. I've been with the love of my life for 10 years, and now we're starting our own family".
You may also like...