Caroline Flack Reveals All On Her Relationship With Harry Styles & Olly Murs In Open Letter
3 July 2018, 12:12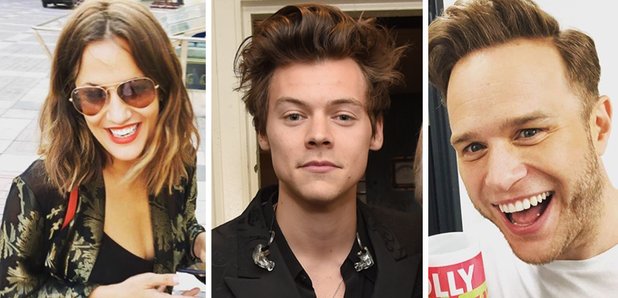 The Love Island host spoke out about the men she dated in her 30s.
Caroline Flack might be happily engaged to Andrew Brady, but she's penned an insightful open letter to herself detailing her past relationships and what she's learnt from the men she's dated.
WATCH: Eyal Channels His Inner-Guru By Reading Some Ridiculous Monday Motivation
Alluding to her fling with Harry Styles, Caz referenced the 'younger men' she's been with as well as speaking out about the 'best friend' (rumoured to be Olly Murs) that everyone wanted her to get together with.
She wrote in Cosmopolitan, "Dear men of my thirties. I dated friends and I dated younger men and I dated men who were hopelessly inappropriate and it was all… fun.
"Dating as a thirtysomething woman felt more powerful than dating in my twenties – and all you guys made me see that. By your thirties, you've survived heartbreak, you've survived long, messy relationships, you've survived unrequited love and maddening love that leaves you tired and confused and willing to give it all up. Those are important things to have gone through and survived.
"Endings are different in your thirties, too. I remember calling time on one relationship and then seeing the woman he had chosen to settle down with instead of me. And here was the best bit: I didn't feel sad or empty. I felt only happiness for them both.
"I looked at her and understood completely why they worked where we never could. That's how break-ups in your thirties differ from break-ups in your twenties. The pain mellows very quickly."
She spoke about her 'best mate' that "everyone thought she should be with", which is said to be Olly Murs, "I mean literally everyone [thought we should be together]. Do you remember how we met and within minutes were laughing like old mates? Being with you was as easy as breathing.
"We both had the same fun outlook on life and we were always, always on the same page about pretty much everything. I don't think we ever had a serious conversation about anything at all, except perhaps when we were talking about our love lives.
"Even our parents thought we were a great match. Did I wish we were together back then? No. But if we had had those feelings for one another, we would have been perfect together. The problem with love is that you can't force feelings."
Caroline seems to have found her perfect match in the form of Andrew Brady and the couple got engaged after a whirlwind romance. She says of him, "I'd been single for three years before I met you. And, to be honest, I wasn't sure I had room in my life for anyone new. I wasn't scared of being single on my 40th birthday in the same way I was on my 30th birthday. I was good at being by myself.
"I saw you on TV before we'd even met. I followed you on Instagram and you followed me back with the simple, emotionless line: Thanks for the support. (I now know, of course, it took you hours to come up with that!) It made me laugh so I gave you my number. A few days later, we met.
"People talk about meeting someone and feeling as though you've known them your whole life. That's what it felt like when I met you. I'll never forget seeing you walk into the restaurant – tall, with a smile 10 miles wide, not just for me but for everyone in there. Talking to you was effortless. There were no first-date nerves – just two people laughing and getting to know each other until the early hours. It was how all first dates should be.
"Two days later, you turned up at my door with a teddy bear from Harrods, just like my first crush all those years ago. And, well, you've never left.
"We laugh until we cry. I've never had that before – with anyone. Every other relationship I've had has only been about love, but with you it's about friendship, too. It's what I've been looking for.
"My life was complete before you came into it – a man doesn't complete your life. But I wanted to make room in it for you. I look at you and I think, Yes, Andrew, you're the one I've been waiting for."
CUTE.
> Grab Our App For All Of The 'Love Island' Goss