Cara Delevingne's Bizarre New Ear Modifications Revealed - But Why Did She Get Them?
28 February 2018, 12:36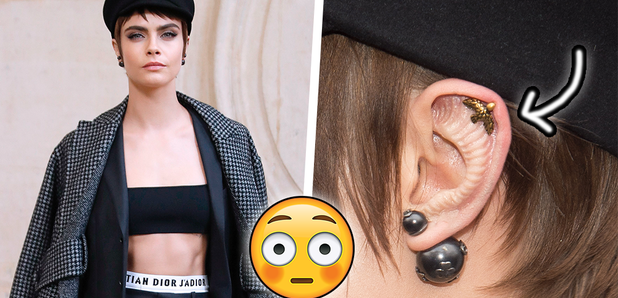 We're not sure how we feel about this but do you, Cara.
Cara Delevingne was spotted at a Paris Fashion Week show on Tuesday but one strange thing caught everyone's attention.
> People Are Freaked By Out By Kendall Jenner's Weird Feet In Her Latest Nude Shoot
The former model and actress might have rocked up looking fierce AF in her black trousers, bralet and blazer combo but the thing that stuck out the most were her ears.
Yes, her actual ears.
Inside Cara's ears from the top to bottom, you could see a ribbed pattern that looked like the result of some body modification.
Picture: Getty
It's either that or some impressive HD-looking makeup. Considering the 25-year-old's daring personality and love of tattoos, we're going to go with a guess that it's definitely something more permanent.
According to rumours, the strange ear modification is for Cara's upcoming role in Amazon series, Carnival Row, which will see her play a faery called Vignette Stonemoss running away from her war-torn hometown.
Picture: PA
> Keep Up With All The Latest Showbiz News By Downloading Our App, Go On!
Cara's not the only model that's got something weird going on with their body parts... Kendall Jenner also showed off her very interesting looking toes that got fans asking loads of questions.
The Jenner sister shared a nude pic from one of her recent photoshoots and her toes were the centre of attention. You have to see it for yourself.
Models have problems dating too, this is how Cara deals with dating disasters...