Brooklyn Beckham Shared His First Tattoo On Instagram & People Are Leaving Angry Comments
3 April 2017, 11:11 | Updated: 4 December 2017, 11:10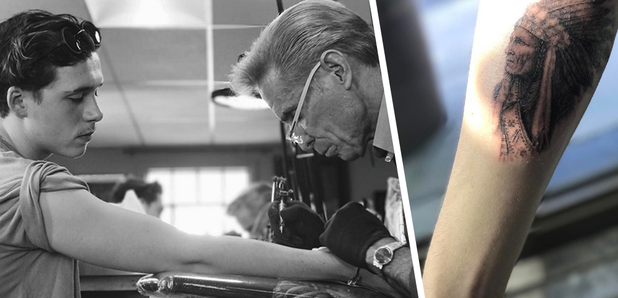 Some people really aren't happy about this new ink!
Brooklyn Beckham is now 18 years old. Yes, we'll let that sink in for a moment.
With David Beckham as his dad, Brooklyn has had some pretty strong tattoo inspiration around him ever since he was born, so it seems like it was only a matter of time before he got his first one.
But now that he's decided to get inked, it seems some people aren't happy with his tatt of choice. Check out the full artwork below...
Brooklyn's Native American tattoo was drawn by hugely respected tattoo artist Mark Mahoney, who own and runs the Shamrock Social Club in Los Angeles. Alongside this picture he shared on Instagram of the tattoo process, Brooklyn commented, 'Honoured to have my first tattoo done by dads friend Mark Mahoney'...
But whilst many people were complimentary of the new work, there were a number of negative comments popping up on Brooklyn's Instagram too.
One user wrote, '10/10 chance you are going to p*** off a lot of Native Americans with this tattoo', whilst another said, 'y on earth would u get a Native American tattoo when ...,, youre not even .,,,, nvm'.
In a longer post, one commenter stated, 'In future you could consider your privilege and your history (white colonialism). Native American people continue to be discriminated against and oppressed, their land, security and liberties threatened by white people. The allies they need are those who will support their voices being raised, especially in areas of influence, like in politics and in popular culture like through the following you have – they don't need representation in the form of being fashion/art on white skin.'
But after the onslaught of negative comments, there were many people jumping to Brooklyn's defence. One user said, 'STOP with negative comment! If you have nothing positive to say keep to yourself! Nice Tattoos @brooklynbeckham'.
David Beckham also has a Native American tattoo on his back and it appears the Brooklyn was wanting to get a tattoo similar to that one. On another Instagram pic Brooklyn wrote, 'Thank you so much Mark x just like dads'.
What do you think about Brooklyn's tattoo then? Incredible ink or inappropriate?
You may also like...