Watch: A Young Boy's Hilarious Floss-Off With An Airport Security Guard
6 June 2018, 11:43 | Updated: 6 June 2018, 11:50
In the perfect formula for heartwarming viewing, a young boy flosses to a security guard across an airport, and the employee does it right back, BETTER!
In this adorable video, a young boy is doing his absolute best floss when an airport security guard sees him through the window on the floor below and quickly joins in.
The clip was originally posted to Instagram by the boy's mum who was absolutely loving her son Preston's ability to soften the hardened heart of security and managed to get him to partake in the flossing craze (he's really good at it?!)
Watch: The Horrific Moment A Drag Queen's Performance Destroys A DJ's Laptop
For those of you that have been living under a rock, 'the floss' is the latest viral trend started by 'the back-pack kid' AKA Russel Horning, who performed the move on SNL as part of Katy Perry's 'Swish Swish'.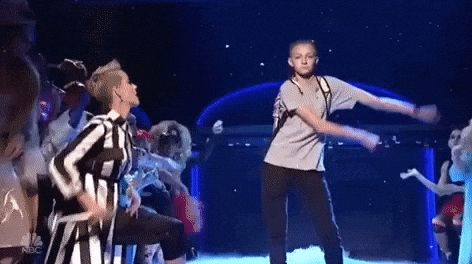 Picture: GIPHY
Since then, celebrities such as Millie Bobby Brown have all given the dance a crack, although it appears Preston's may be the best yet.
Download Our Brand New App For All The Latest Viral Videos