People Who Grew Up In The 90s Are Having 'Bob Ross Birthday Parties' & They Look LIT
8 February 2017, 15:31 | Updated: 4 December 2017, 11:10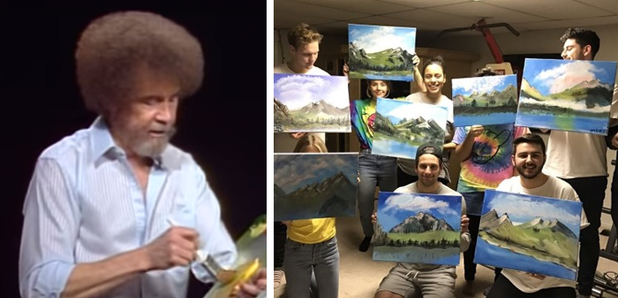 The legend of Bob Ross has taken on a life of its own and we are loving it.
If you grew up in the 90s, there's no doubt you'll remember sitting down in the front room, flicking on the TV and discovering a guy with VERY big hair, a beard and the magic that were his paintings.
That man was Bob Ross. He always had the ability to somehow look like he'd messed up a masterpiece only to rescue the painting with the swish of his brush. Well...now people are following in his footsteps. In fact, Chris Nervegna, a 22 year old from New Jersey threw a whole party in honour of Bob.
HAD A BOB ROSS PAINTING PARTY FOR MY BIRTHDAY.

LOVE. MY. FRIENDS.
BEST. DAY. EVER. pic.twitter.com/HWCR9oDZl1

— Chris Nervegna (@Brovegna) February 5, 2017
You've got to hand it to Chris and his pals...they're ALL pretty damn good!
Speaking to Buzzfeed News, Chris admitted, "I can't explain to you how bad the paintings were coming out in the beginning. I mean, absolutely horrible". Adding, "Towards the end, everyone's started coming together and looking amazing. I was shook."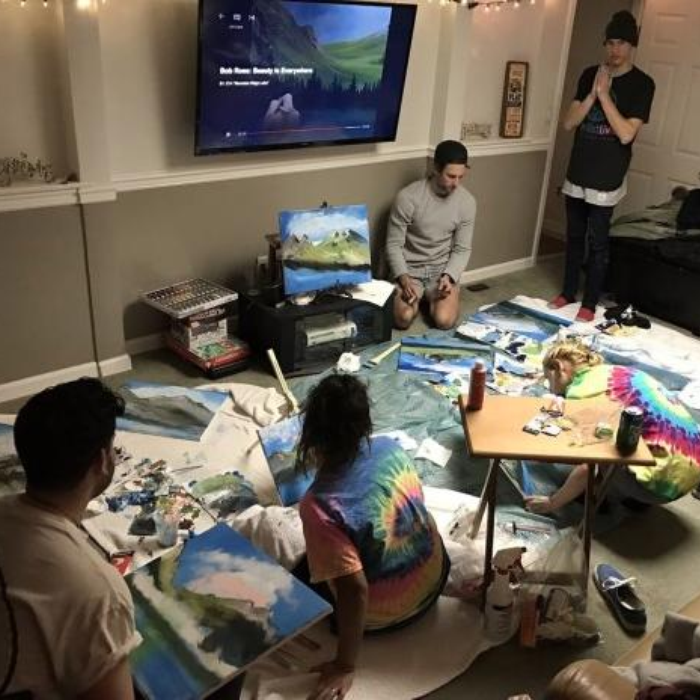 PIC: Chris Nervegna/@Brovegna
From that moment onwards, thousands of people have decided that the next time they throw a bash, it is going to be Bob Ross themed, no substitutes!
I went to Bob Ross party & painted this masterpiece pic.twitter.com/kHRv3EwAiJ

— chandler (@chandlerhemme) February 8, 2017
I wanna have a Bob Ross painting party

— grace (@gracekiiiser) February 8, 2017
Who wants to have a Bob Ross painting party?

— Noel (@nljmnz) February 8, 2017
I will have a Bob Ross party

— Lo+ (@reallylaurynn) February 6, 2017
I want a bob Ross painting party

— angelica (@dayzeaaa) February 6, 2017
You may also like...