Blac Chyna Rants At Tyga For Not Paying Child Support… While He's Out Buying A New Ferrari!
30 March 2017, 11:27 | Updated: 4 December 2017, 11:10
Chyna called out Tyga in a rant about money.
Blac Chyna and Tyga's relationship has never exactly been straightforward, but the former stripper went on an epic rant at her baby daddy last night, calling him out for not paying child support while he was out shopping in a new yellow Ferrari.
While Tyga visited Barney's with Scott Disick, Chy took to Twitter to let loose at Tyga, claiming he threw her out and wanted to see her fail and hadn't been paying any child support for their son, King Cairo.
Chyna posted a series of messages on blank screens on Snapchat, telling her followers, "It's funny now to me !!! But when Tyga and side n***a kicked me out !!! And they wanted to see me fail ! lol And 2 grind from the dirt !!!!! No child support!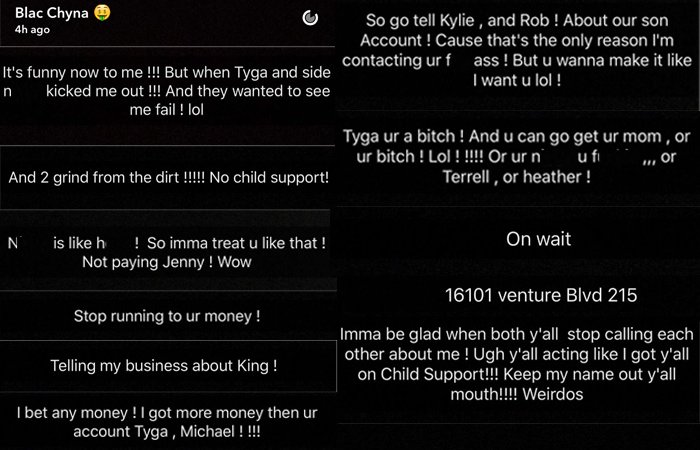 "Stop running to ur money! Telling my business about King ! I bet any money ! I got more money then ur account Tyga, Michael!!!! So go tell Kylie, and Rob! About our son Account! Cause that's the only reason I'm contacting ur f*g a*s! But u wanna make it like I want u lol!"
Chyna made sure to name check Kylie Jenner, who Tyga left her for, as well as her on-off fiancé Rob Kardashian who is father to her second child, Dream, and just happens to also be Kylie's brother.
Tyga going out and buying luxury cars and expensive clothes while not paying for his kid might have been what riled Chy up – as she posted the address of her salon in the messages for Tyga to drop off some money to go in their son's bank account. Here's hoping he made that deposit...