The 7 Most Awkward Handshakes And Hugs In Pop – Video
22 January 2014, 11:14 | Updated: 4 December 2017, 11:10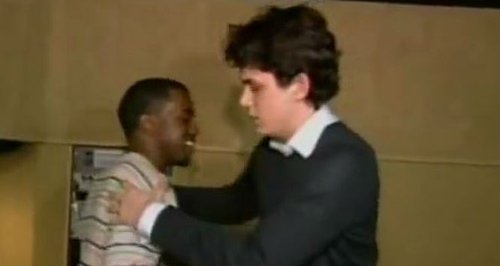 Beware....it could happen to you!
With award season underway, there is many an opportunity to share an embrace with a fellow artist or reporter on the red carpet.
But every now and again there's one of those moments that has you cringing for days after. Those moments that go viral in a flash and they're the times the stars just wish they could forget.
Check out some of the best below...
1. Miley Cyrus at the MET Gala #Ouch
2. Diddy and Bono at the Golden Globes
3. This epic shake/hug between John Mayer and Kanye West

4. Kendrick Lamar.....WOW

5. Taylor Swift with Olivia Munn at the People's Choice Awards

6. And Taylor Swift on the red carpet of the AMAs....JEEZ that's cold!
7. And....Jay not sharing the love with Kim at the BET Awards *tut tu*