Ariana Grande Fans Are Desperately Trying To Get Her Attention For The Most Beautiful Reason
1 May 2018, 16:51 | Updated: 1 May 2018, 16:57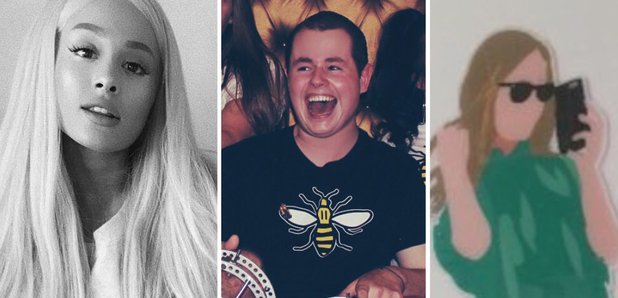 Megan Hurley was one of the 22 people who lost their lives in the Manchester Arena terror attack last year.
Fans of Ariana Grande are desperately trying to get the 'No Tears Left To Cry' singer's attention on Twitter so they can make her aware of 'The Megan Hurley Pin'.
Britain's Got Talent Judges Moved To Tears By Manchester Terror Attack Survivor
Her brother, 21-year-old Bradley Hurley, is one of the survivors who sustained multiple injuries and spent over a month recovering in hospital following the bombing. He created the pin in his sister's honour and is now trying to get one to Ariana.
Speaking in a lengthy heartfelt post on Instagram, he said: "I began thinking of ways to commemorate my sister's life. I had just finished my second year of university at the time of the attack, where I was studying graphic design. I put the skills I had learned into practice and began a stylised design of my favourite photo of my sister.
After around a month I had come up with the idea of creating a pin-bade & began the process of bringing this to life, thus was born "The Megan Hurley Pin." I sold 500 pins, raising £2,000 for a garden erected in my sister's memory at her secondary school & it became a symbol of my sister's life locally & people all over my home town recognise the badge."
He went on to say his sister was 'truly [Ariana's] biggest fan' and said if he could get the badge to anyone, Megan would want it to be her.
He added: "I am writing in the hope that this message will reach you & I will be able to provide you with your very own "Megan Hurley Pin" for you to wear with pride in the same way we all do. I think if I could get a badge to anyone, my sister would have wanted you."
Ariana Grande fans are now tweeting and messaging the star in the hope she will see Bradley's message, whose Instagram handle is @bradley.hurley, and respond to him.