EXCLUSIVE: 5 After Midnight Reveal Details Of Heated X Factor Fight With Honey G
31 January 2017, 19:55 | Updated: 4 December 2017, 11:10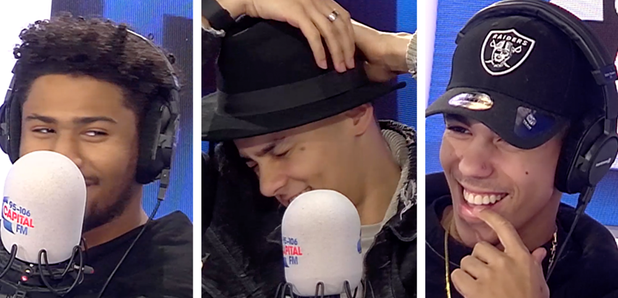 So things weren't all hunk dory in the X Factor house then!
Whilst Matt Terry was the eventual winner of the most recent series of X Factor, the show also created a number of other stars who were some of the most talked about people in the UK during 2016.
Honey G was certainly one of them, and now X factor finalists 5 After Midnight have revealed all about a bitter argument that kicked off between 5AM band member Nathan Lewis and the North Weezy rapper.
Speaking exclusively to Capital, Nathan revealed all in a chat with Roman Kemp - check out the video below...
He explained "It was the week where all the contestants go from doing one song to two songs a week - it's stressful and everyone's got loads of stuff to do."
"It's like 1.30am and I'm down to my last pair of socks and boxers, so I need to do some laundry. I fill up both machines, black in one and white in the other and I'm waiting outside the room for it to beep so I can take it out. So Honey G goes into the room and I followed her in there and was like 'Oh are you doing any laundry?'"
"She was pulling all her clothes out of the washing machine, so I was like 'wait a second where's mine?' and I look over on the floor and my whole white wash has literally been chucked on the floor!"
"Bare in mind that the laundry room is where all the rubbish and everything from the house goes, so I was like 'OMG' cos now I've got to stay up and rewash it, wait for it to finish and then put it on tumble dry and we've got to be up so early! I had a go and I was like 'you can't do that' because it hadn't even finished the cycle. I was livid!"
"The worst part about it was that the cycle hadn't even finished!"
Fellow 5AM member Kieran Alleyne added, "Let's just say, I heard it from upstairs, so you can imagine what was going on!", whilst Jordan Lee claimed, "All I heard was a disturbance cos the kitchen literally has no door, so I'm having to pause my movie just to hear this."
Nathan went on to reveal, "Luckily the security guard who was doing the night shift was nice enough to offer to rewash it for me. But it was late at night, I was tired and hungry and it was the worst thing that could've happened at that time."
So what was Honey G's response you might be asking yourself?
"She was like 'Oh I'm really tired, I need to go to bed, I don't need to have this conversation with you now', so I was just like 'OK', explained Nathan.
Jordan joked, "It's weird how the fire came so quick but the storm just kinda withered away".
But they're cool with Honey now right? We wouldn't want this turning into a serious beef after all would we!
"Yeah we're cool now", Nathan happily revealed. "We've seen each other since then obviously, but at the time I saw red…not good."
The trio also discussed what it's like being compared to former all-male X Factor groups like One Direction. Speaking about whether they feel any pressure to emulate the success of 1D, Kieran said, "Yeah definitely, the bands that have come off the show in general are phenomenal, so to try and follow in their footsteps, it's already added pressure on to us before we've even got a chance to go out there and do anything."
"So now we need to really step up and be like 'OK we're here to try and take that next spot' and hopefully we can be the next big thing."
Jordan added, "We can only be ourselves. There is a lot of pressure on us to deliver and be just as big, if not bigger or whatever, but the only thing we can do is be ourselves and make the music that we like and hope it's gonna do well."
In a recent tweet, Kieran asked fans whether they thought Little Mix should do a collaboration with the group and it was met my some fairly excited and positive responses...
I deffo think @LittleMix should duet with us @5AfterMidnight !! what do you guys think?

— Kieran Alleyne (@kieranalleyne) January 25, 2017
@kieranalleyne @LittleMix @5AfterMidnight ABSOLUTELY THIS WOULD BE THE BEST THING EVER

— MattTerryUSUpdates (@TerryUSUpdate93) January 25, 2017
@kieranalleyne @LittleMix @5AfterMidnight Imagine the sick dance breakdown

— Emma (@Emmaallen1996) January 25, 2017
@kieranalleyne @LittleMix @5AfterMidnight YASSSSS. SNATCH THIS WORLD. LEAVE US DEAD WITH THAT DUET!!

— (@__hxfsaa) January 25, 2017
@kieranalleyne @LittleMix @5AfterMidnight yassss

— Iman (@Belieber_Iman) January 25, 2017
@kieranalleyne @LittleMix @5AfterMidnight IS THIS EVEN A QUESTION?! YES YES YES

— Jada (@Jadasouten_) January 26, 2017
Talking about a potential collaboration, Kieran told us, "I just feel like it'd be a great collaboration for us. I mean they're a girl group, we're a boy group; they dance, we dance; they sing, we sing…"
"They're gorgeous and we're gorgeous", Jordan added before all three burst into laughter.
"It's been a little while since there's been a boy-band girl-band mashup up, especially with those numbers, so it'd be interesting to see", he concluded.
Well we would definitely love to see that guys, so if we could please make that happen pretty soon that'd be great!
You may also like...