7 Things That Are Confirmed To Happen In '13 Reasons Why' Season 2
11 May 2017, 15:38 | Updated: 7 December 2018, 10:16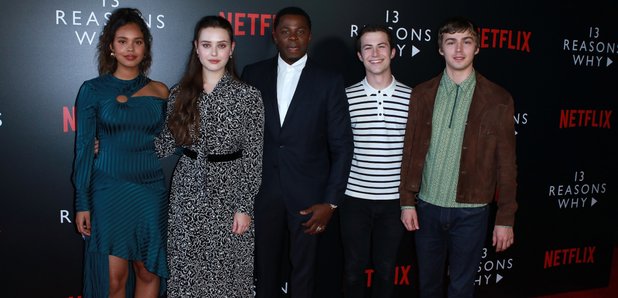 According to showrunner Brian Yorkey anyway...
The news that everyone was waiting for broke last week when it was confirmed that 13 Reasons Why would be returning for a second season.
Now, all that anyone can talk about is what it's going to be about. Fan theories are rife - will Tyler carry out a school shooting and will Bryce be prosecuted? What will happen to Clay? The questions are endless.
Now, it seems that a member of the 13 Reasons Why team has revealed some details about what we can expect.
Hannah Will Absolutely Return.
When show runner, Brian Yorkey was asked whether Hannah would return, he replied, "Oh, absolutely. I think one of the things that is still hanging out there is this question of is someone responsible for Hannah's death? Is the school responsible? Who is responsible, if anyone is? One way we'll explore that question is through the trial and also through all these kids reflecting on where they are a few months down the road and what other secrets are being uncovered. That's going to take us into the past, into Hannah's story".
We're Going To See The Other Kids' Side Of The Story.
"For every tape there's another person who has a story, which is the person Hannah mentions on her tape. We saw Hannah's version of events unfold, but there's a lot more to be told also about those characters. To me, there's a tremendous amount that I still want to know", he continued.
Hannah's court trial will supposedly give insight into how her classmates experienced the events that we witnessed in season one, which will attempt to give "new context". "We're going to see a lot of things we hadn't even heard about yet that fill in some really interesting gaps in our understanding of who Hannah Baker was and what her life was", Yorkey explained.
Jessica's Story Is Important.
Some fans have wondered whether Jessica's story is done and dusted but Yorkey finds this thought "horrific".
"Jessica is just beginning the process of recovering from her rape, and we have a rapist who has not in any way been brought to justice", the showrunner explained. Before jokingly adding, "And also, [I want to] see somebody punch Bryce in the face", he added. Which we totally get and we're more than happy to nominate ourselves for the job.
We'll Get Answers.
One of the things that we've been most worried about is whether we'll get answers to the following:
Is Tyler going to do something horrific?
What's going to happen to Alex?
Will Bryce be prosecuted?
Brian explained that they're "going to answer those questions but I think, even more, we're going to continue to look very truthfully and very honestly at what they go through, even when it's painful at times".
Season Two Won't Be As Dark.
Season one was a tough watch and whilst season two will continue to explore Hannah's decision to kill herself, Yorkey revealed that "as they begin to emerge from this very dark time, there's hope and there is some light to be found".
We're Getting A New Narrator.
Hannah won't be narrating the second series which will be a massive change for fans to adjust to.
"There's a voiceover in every episode, but the voiceover is no longer Hannah… So there will still be that weaving of time frames and seeing them unfold and how they impact each other as they go", Yorkey shared.
There Won't Be Any Cassette Tapes.
They were the be all and end all of season one, so surely the tapes will have to make an appearance?! Apparently not.
"The tapes are still obviously on people's mind, but there is a different sort of analog technology that plays a hugely important role in season 2. So the cassette tapes aren't at the centre of it", it was explained. And we're not going to lie, we're relieved and slightly confused in equal measures.
However, "there will be a new piece of technology for 13 year olds to Google and try to understand what it was", it was also revealed. A floppy disk, maybe?
A more likely answer is that perhaps it'll be Tyler's photography, as some fans are already theorising.
You May Also Like...